Is debt bad? Of course it is, it's the opposite of financial freedom!
However, certain types of good debt actually exist!
While paying interest rates month after month shouldn't be considered normal, some loans are perfectly justifiable!
And no, buying a car or a vacation package don't qualify as acceptable debt.
Good debt is still debt though.
You're still "in a complicated relationship" with the lenders and a slave of the interest rates.
However, if borrowing that money leads to an investment in your future or an increase of your net worth, then maybe applying for a loan isn't such a bad idea.
So, what exactly qualifies as good debt?
These are my top 3 situations worth getting into debt for:
3 types of good debt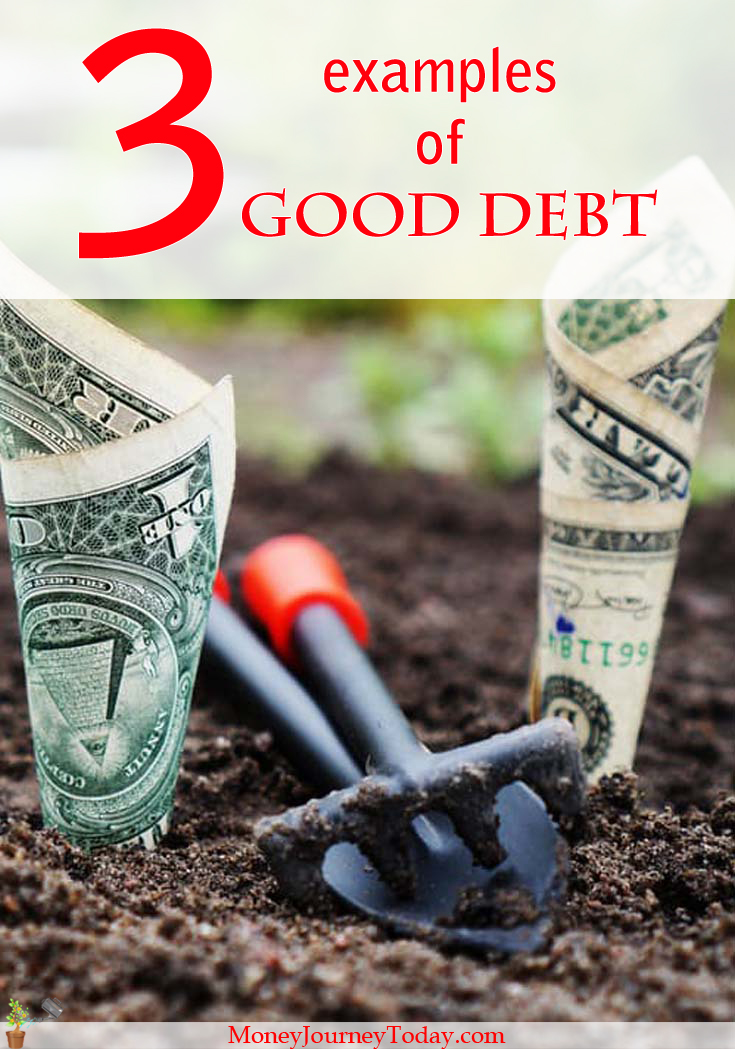 Mortgages
---
Buying a home with cash is ideal, but come on, who has that kind of money lying around?
Mortgages are the first thing that come to mind when thinking about good debt.
Of course, applying for a mortgage means being in debt for the next 30 years or so, but the alternative is to pay rent for a place that's not yours.
Paying rent month by month or paying a mortgage isn't really the same thing.
But if you're sure about settling down and are ready to become a home owner, then buying a house is a wise investment.
You don't have to stop there though.
You can always invest in a house and flip it for profit. You could buy real estate and become a landlord or start an Airbnb business.
There's lots you can do to earn money by investing in real estate.
Mortgages are definitely the best example of good debt there is.
Business loans
---
Many are stuck in dead end jobs and constantly dream of something bigger.
Well, if you have an idea and a feasible business plan, all that's missing is putting your idea into action!
While certain types of business can be started without much money, others need a solid investment to get things off the ground.
A business loan might be just what's missing to start earning some serious money!
Since the whole idea of becoming an entrepreneur is to increase your earning potential, borrowing money to start your business is definitely a type of good debt you could look into.
Education
---
You might think this type of good debt only refers to student loans, but it doesn't. I believe it's worth investing in all types of education.
They are equally important, as long as the time spent studying helps you later in life, both professionally and financially.
I never get tired of saying I've worked through college and paid for my education without getting into debt.
However, not everyone is able to both work and study, some students need to focus so hard on studying, there's really no room for other time-consuming activities!
Aside from a college degree that's actually going to help you get a well paid job, special training is also worth investing in.
Not all jobs require applicants to be college educated, but they might require you to be literally qualified for the job! And if the salary is worth it, it may be a good idea to invest in some special courses to increase your chances of getting hired.
Unfortunately, all is relative.
If you're not careful, good debt could turn into a nightmare real fast! Anyone can make money mistakes.
Say you lose your job and are unable to pay for your mortgage anymore. Or you fail soon after you start your new business. Or you invest in great education, only to find yourself unemployed.
Good debt is only 'good' if you have a solid plan to pay it off.
There are always ways to save more money or earn extra income, so not all could be lost, but it's still very important to acknowledge the fact that good debt is still debt!
What other situations do you consider to be worth getting into debt for?
Are there any other types of good debt I missed? 
The following two tabs change content below.
I'm Adriana, a passionate personal finance blogger &
web content writer
, helping people improve their website rankings and attract more visitors by creating high-quality, unique content.