Applying for a first mortgage is a huge, yet exciting decision!
However, as first time homeowners you should know about the reckless mistakes to avoid when buying your first home!
Buying a house is one of the biggest purchases of our lives. I also believe it's one of the very few reasons it's worth getting into debt for.
However, a mortgage isn't your typical short term loan. It's a serious financial commitment.
Typical mortgage loan terms range from 15 to 30 years.
So, unless you become filthy rich all of a sudden, you'll be 'stuck' in serious debt for a while.
Reckless mistakes to avoid when buying your first home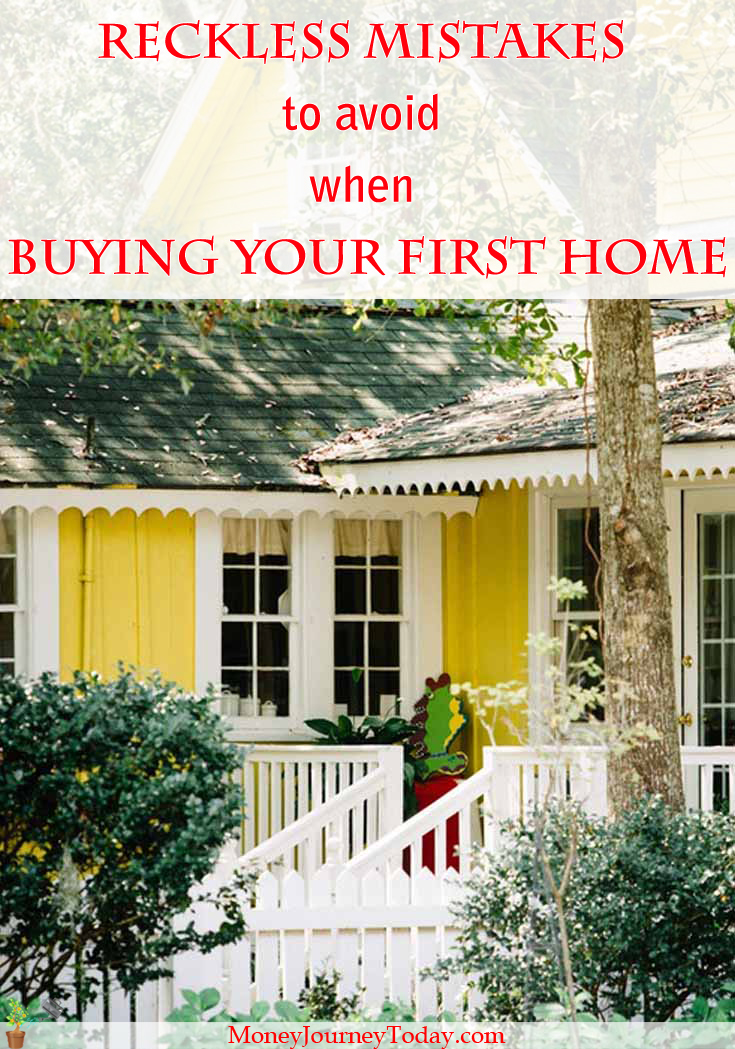 Not saving enough for a down payment
---
Ideally, saving enough to pay cash for a house would be the way to go.
But very few people actually afford to skip the 30 year old mortgage when buying their first home.
That being said, there are even fewer people who manage or even make an effort to save more than the minimum required for a down payment.
The more you're able to pay upfront, the less you have to borrow and the chances for you to qualify for a lower overall interest increase significantly.
Failing to acknowledge a realistic price range
---
Monthly mortgage payments also include taxes and interest. New home owners probably already know that.
However, there are other expenses to take into consideration too!
Utilities, insurance (if you don't pay it on a monthly basis), maintenance, homeowners' association fees and who knows what else?
It's easy to overestimate what you can afford.
Before making any final decisions, make sure you take every little expense into account.
Even small repairs and modifications you'd like to make in your future home.
Skipping the mortgage pre-approval process
---
A common mistake many eager young adults make is skipping the mortgage pre-approval process.
It's boring, and probably annoys the crap out of anyone, but it's important.
We have a couple of friends who recently became home owners. They did have a dream-house in mind (big enough for 4, spacious back yard, they had it all planned out), but were smart about it and made sure to get pre-approved first. It helped them narrow down their choices by a lot!
Once you know exactly what you can afford, you can start shopping around.
Looking for a home prematurely could turn out to be a waste of time for both you and your agent.
Not working with a real estate agent
---
Real estate agents need to eat too, so they will only work in exchange for a fee.
While you might think "I'll just deal directly with the seller and save a few thousands", think again!
An agent does this for a living, so surely they know all about buying and selling homes.
If you're a first time buyer, compared to a real estate agent you probably know very little.
Agents will help you through the whole buying process.
They already know their way around the neighborhood, they can guide you through the home inspection process and they know how to correctly handle the important paperwork.
Shopping around too much or too little
---
The perfect home does not exist. Unless you're going to build it yourself, your dream home is going to be far from perfect.
Looking at a few houses before deciding is a must, but don't shop around too much always thinking a better deal will eventually come along.
On the other hand, try not to fall in love with the first house you see and refuse to look around some more!
That's also a big no, no.
Considering you'll be 'stuck' with mortgage for the next who-knows-how-many years, make sure you compare a few properties before jumping head first.
Being too 'emotional'
---
When looking at a house you're thinking of buying, try to really visualize it from your point of view, not the seller's.
You might look at a house and see ugly wooden floors and a hideous bathroom decor!
Oh, the horror!
Or, you might look around inside a house for sale and notice all the wonderful cosmetic upgrades that make it look so modern.
But have you noticed how noisy your future neighbors are?
Don't be blindsided by the small details.
After all, you're probably going to remodel your home to your liking anyway.
Don't let these false emotions get to you, think rationally.
Skipping the home inspection
---
Last but not least, home inspections should not be skipped.
You're about to invest big time in your future home for years to come.
Hire an inspector and see if your future home is safe!
Plumbing, electrical wiring, even the foundation could cause problems.
See what needs to be fixed before you close any deal.
Otherwise, you might move in and have your new toilet overflow! You probably don't want that to be your first memory in your new 'home sweet home'.
Buying a house sounds more complicated than it really is.
It can be stressful, and unpredictable situations can always occur along the way.
But if you plan ahead and are careful about your future real estate investment, you can easily avoid at least the most common problems.
What are some other mistakes you think first home buyers should avoid? 
The following two tabs change content below.
I'm Adriana, a passionate personal finance blogger &
web content writer
, helping people improve their website rankings and attract more visitors by creating high-quality, unique content.