As the Financial Literacy Month comes to an end this week, it can't hurt to take a moment and look at the 30 step checklist for financial freedom.
The guys over at Money Management International did a great job coming up with a 30 day plan to help people achieve financial wellness.
But what is financial literacy? According to Wikipedia, it's the possession of the set of skills and knowledge that allow people to make informed decisions when it comes to their finances.
That in mind, what better way to honor Financial Literacy Month than by paying it forward?
30 step checklist for financial freedom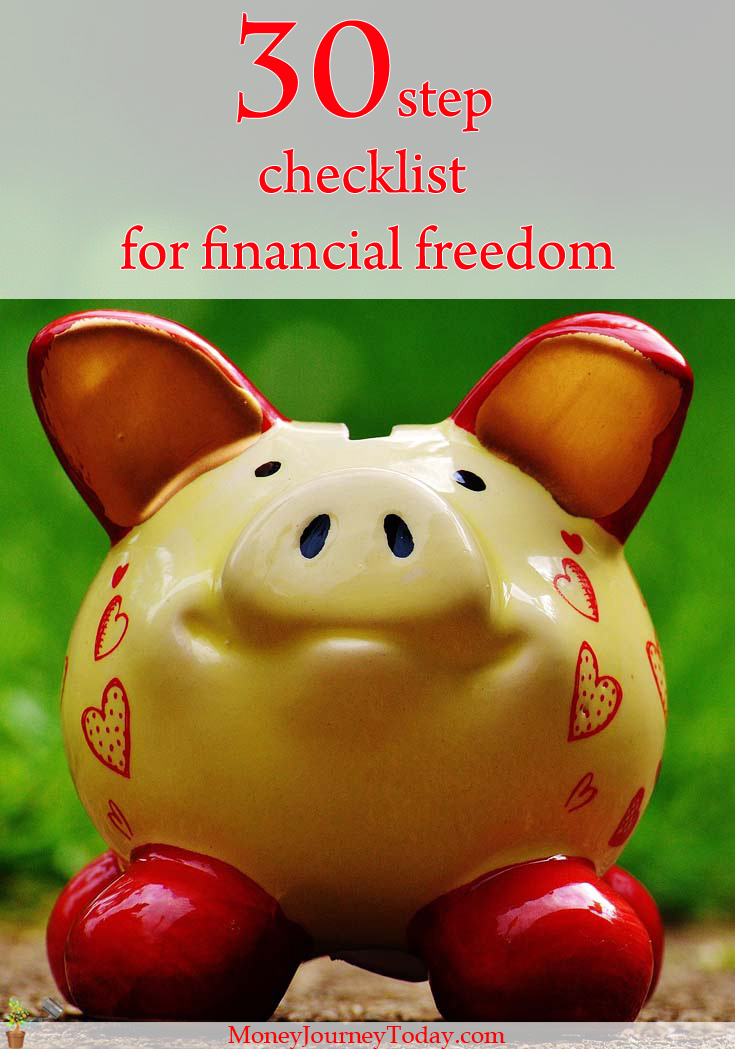 Step 1: Commit to change – Being responsible with your own finances is an important step. Personally, I believe it's important to stop looking at money as funds that come and go, and start treating your income as a tool to build a better future.
Step 2: Assess your financial situation – Know where you stand financially, so you'll know how to plan ahead. I took the quiz the guys over at financialliteracymonth.com shared, and scored 16. Apparently, so far, so good!
Step 3: Clearing out financial clutter – Many told me I'm paranoid about shredding paper with my details on it into ridiculously small pieces, but I'd rather be safe than sorry. Throwing away unnecessary paper clutter is a must, but identity theft is no joke.
Step 4: Set yourself up for success – In other words, get organized! Set up automatic payments (check!), organize your financial papers (check!),  maintain order when it comes to handling your finances.
Step 5: Get copies of your credit reports – Since you can get a free annual credit report, take advantage of it and review it on a regular basis. Check it for errors or suspicious activities. Again, better be safe than sorry!
Step 6: Clean up your credit report – If you do find errors or if your credit score is low, it's only logical that you should repair bad credit. It takes a while, but it's definitely worth improving it!
Step 7: Make your money count – Know how much money comes into your household and learn how to budget your money even on a low income.
Step 8: Identify your starting point – a.k.a. know what you own and what you owe. It's a good money exercise: compare your assets to your debt. It may not be a fun exercise, but it can surely paint a picture of where you stand.
Step 9: Do you pass the debt test? – Make a plan to pay off your debt, if you don't already have one! Good debt or bad, you should always pay off your debts!
Step 10: Set your priorities – Learn the difference between wants and needs and learn to prioritize what's more important to you, according to your budget.
Step 11: Set SMART financial goals – The S.M.A.R.T. tool can be used to plan goals in several, different, areas. Applying SMART goals to personal finance is possible as well.
Step 12: Set short-, mid-, and long-term goals – SMART or not, financial goals help a great deal. Whether you plan to retire early, plan on making a big purchase or anything else, for that matter, figuring out what it takes to achieve financial freedom will help you get there sooner.
Step 13: Pay down your debt – It goes without saying, you should tackle your debt from every angle possible, if you plan on becoming financially independent.
Step 14: Expect the unexpected – Build an emergency fund for unexpected expenses. You never know what financial emergency might occur, so it's important to be prepared.
Step 15: Secure your financial future – Retirement might be far away, but it always helps to start saving as soon as possible. Don't believe in retirement myths that state you can spend less or think you can't afford to start saving today!
Step 16: Make a commitment – In order to actually achieve your financial goals, you have to commit to following good money habits.
Step 17: Save for your goals – You can only achieve your goals by saving on a regular basis. However, I'm a firm believer in balance, so saving for your goals while also enjoying life is clearly the healthy way to go.
Step 18: Where does all the money go? – Ah, the never ending mystery. Not knowing where your money disappears each month is not uncommon, especially for families who live on a low income. To get a better idea of what happens, always make a budget, by following the next few steps:
Step 19: Identify and document fixed monthly expenses – Mortgage/rent, insurance, taxes…etc. By making sure you make these payments a priority, you'll definitely be on the right path to reaching financial wellness.
Step 20: Identify and plan for periodics – Certain expenses, although not on a month to month basis, should still be included in your budget. Be 1 step ahead at all times when it comes to handling your money, and don't 'cripple' your budget each time a periodic quarterly or semestrial expense needs to be paid.
Step 21: Document your spending – Keep track of everything you spend. It's not all that fun to document each pack of gum you buy, but if you want to keep an accurate budget, it's necessary.
Step 22: Identify ways to reduce spending – Want to save more money? Well, spending less sounds like a good step towards bigger savings: lower your electric bill, downsize to save money, do whatever it takes to reduce your spending and save more money in the long run.
Step 23: Save money on groceries – Learning how to grocery shop smart doesn't mean you should be cheap when it comes to food or settle for low quality meals. It simply means you can both eat well while spending less! Win-win!
Step 24: Share a tip for change – Know some good tips to save money and want to help others? Great! Starting a blog today has never been easier. You could build a profitable blog while helping others reach financial well-being.
Step 25: Document your desired spending – Want to define even clearer financial goals? Try to adjust your budget according to your wants. Maybe you want to save more in one department and spend less somewhere else. Take charge of your own finances and make the necessary changes!
Step 26: Protect yourself by performing financial check-ups – Financial check-ups include shopping around for a better car insurance, making sure your health insurance covers your needs, taking the time to review your will. It's important to know how to save money, but it's even more important to be safe.
Step 27: Understand the cost of credit – Loans can help you financially in many ways, but it's important to fully understand what a loan really implies before you sign any papers. Whether you need a payday loan to solve a "minor" money emergency or a bigger loan for, say, buying the car of your dreams, always make sure you read the fine print and understand the terms and conditions of your loan.
Step 28: Assemble a financial team – Tax advisors, lawyers, credit counselors etc., can be of assistance should you need financial advice. So, don't hesitate to ask for a financial professional's help if you need to. Especially if you need to handle important documents.
Step 29: Appreciate the benefits – Appreciate the benefits of having developed good money habits! Good financial money habits can only be beneficial, especially if you have a clear goal in mind: paying off a mortgage, saving for an early retirement or even building generational wealth.
Step 30: Moving forward – well, if you've already developed good money habits, there's only one thing left to do: maintain them! Poor financial money management only leads to budget troubles and lifestyle consequences.
The following two tabs change content below.
I'm Adriana, a passionate personal finance blogger &
web content writer
, helping people improve their website rankings and attract more visitors by creating high-quality, unique content.