To many individuals, a holiday is simply a season that comes and goes. Nevertheless, it becomes a little bit challenging to deal with debt immediately after a holiday is gone, even though the festive moods might still be prevalent.
Once the holidays pass, the difficulties of settling debts often set in.
Going into debt is not always a bad thing, however, it may take a lot of time and effort to settle debt on your credit cards. For instance, an individual having a rate of 16% with the least reimbursement of $25 each month cannot clear the debt until 2023. Evidently, the desires to exchange gifts on Christmas with the ones we love have made debt a handy affair. A recent study stipulated that at least 57% of American adults having children would prefer taking debts to entertain and make their kids happy.
Unfortunately, in the current year, holiday debt may linger longer for middle – class individuals compared to people in the higher social classes. Undeniably, lingering debts can be very detrimental to families when compared with income groups, and yet a number of individuals in many occasions get caught up in a passionate tug of giving gifts or get tempted in such one – time undertakings.
But is a bargain really worth it if in the end, it compromises an individual's overall financial well being? Individuals who get into holiday debt in most cases end up settling them in the course of the New Year if they cannot afford to beat the deadlines. And the individuals using credit cards with higher rates are in most cases, disadvantaged.
The interest tends to grow at a faster rate when debt lingers, as a result doing away with the savings. In addition, more loans tend to lessen available credit, resulting in higher interest rates for future debts. Fortunately, there is a way out.
The following section will address three steps that you can utilize to effectively plan for the upcoming holidays.
Always determine your budget
Setting a budget will help you spend reasonably. Examine your savings and determine the amount you can spend on the upcoming holiday. Thereafter, draft a list of the recipients you intend to gift. Calculate the amount of cash you can spend on each individual. Do not allow yourself to beyond your budget.
Come up with a holiday spending plan
One proverb says the plan of a diligent one sees success. Planning will help you greatly in this regard. Your plan should include such things as gift purchases, costs of traveling, expenses on restaurants, and lodging costs among others. Where the total costs outweigh your budget, look for means of getting discounts or simply narrow spending.
For instance, you can do away with hotel reservations and choose to remain within the locality with friends. Alternatively, you can abandon costly restaurant outings and if you intended to have meals with friends out, propel the group towards a better option. If still, this option does not get you back to the dimensions of your budget line, prioritize all the activities you had planned and remove the least important from the list.
Opt for cheap but meaningful gifts rather than pricey ones
Generally, individuals appreciate more thoughtful gifts that draw attention to the experiences and memories with loved ones. Draft a coupon book for the recipients, providing suggestions that will make their lives easier. That may mean just anything, ranging from cooking meals to cleaning their autos or even babysitting.
Arrange for a gift exchange
Rather than each person buying gifts for everybody, why not plan for gift exchange between members of the entire family? This move is financially flexible will translate to minimized spending.
Now suppose the holiday came and went, and you are left with debt, how can you handle that situation? Well, that is the focus of the remaining section of this article. We will address at least seven tips you can utilize to quickly be free from holiday debts.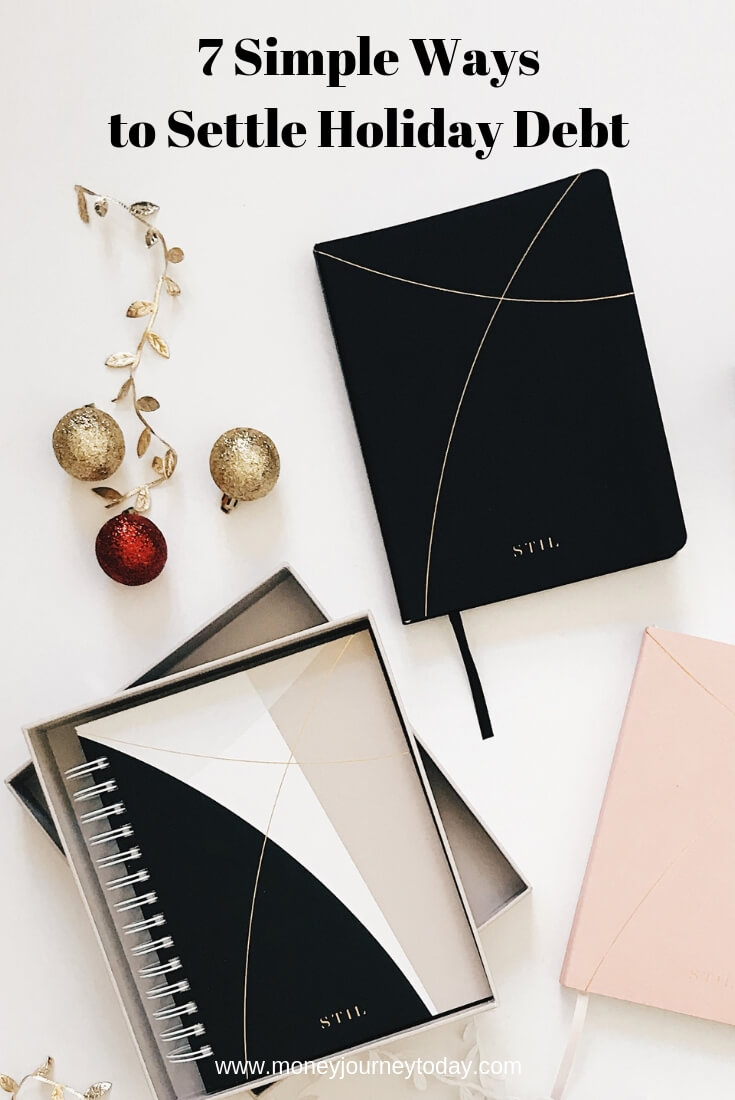 7 Simple Ways to Settle Holiday Debt
1.  Negotiate with your credit company for better terms
Obviously, the company will not clear the balance for you. Nevertheless, the company may be open to offering you options for better rates. In fact, if you have a good credit history and can even quote other options from other credit card issuers, the company will see the seriousness in you and may consider cutting your interest rates or giving you a completely new card.
2. Plan to repay multiple cards or debts
Suppose you are plagued with a number of high – interest rate cards, start by prioritizing them in order starting with the highest to the lowest. The recommended approach is to settle the one with the highest interest rate. Still, you can begin with lower ones to get a feel of accomplishment and perhaps gain momentum.
3. Submit payments each month even if they are small
Instead of waiting for the due date to submit your installment, something that let interests nibble away at your incoming earnings, make payments as long as you have money. The smaller payments will add up and save you.
4. Opt for a personal loan
Taking an unsecured personal loan comes with significantly lower rates compared to your credit cards. Though this is a move taken with caution, when properly approached can translate to long – term financial health.
5. Take a home equity loan
If you a homeowner, you have the option of using your home as collateral for a loan. You can use this loan to settle your credit card debts. By so doing, you will get a lower interest rate than the ones of unsecured personal loans, though your house may be at risk.
6. Seek help from a credit counselor
Non – profit credit counselor entities give professional advice to individuals plagued with debts and would wish to get out of them. They settle your creditor and in return, you will have to pay them once.
7. Contact a bankruptcy attorney
Even though it is unlikely, an extravagant holiday may render you bankrupt. If this happens to you, seeking help from a bankruptcy attorney is the best decision. The attorney will help you avoid bankruptcy, or perhaps guide you through the entire process.
Conclusion
Living in debts is an undesirable thing, especially when such debts are taken for festivity. It requires concerted efforts to settle them. This article has analyzed at least four planning strategies you can adopt and seven tips of settling holiday debts.