If you're one of the many people who want to earn money from home, you're in luck! You'd be surprised how many ways there are to earn a paycheck or supplement your income from the comfort of your own home.
These ideas will help you earn money quickly and easily while being completely in control of your schedule.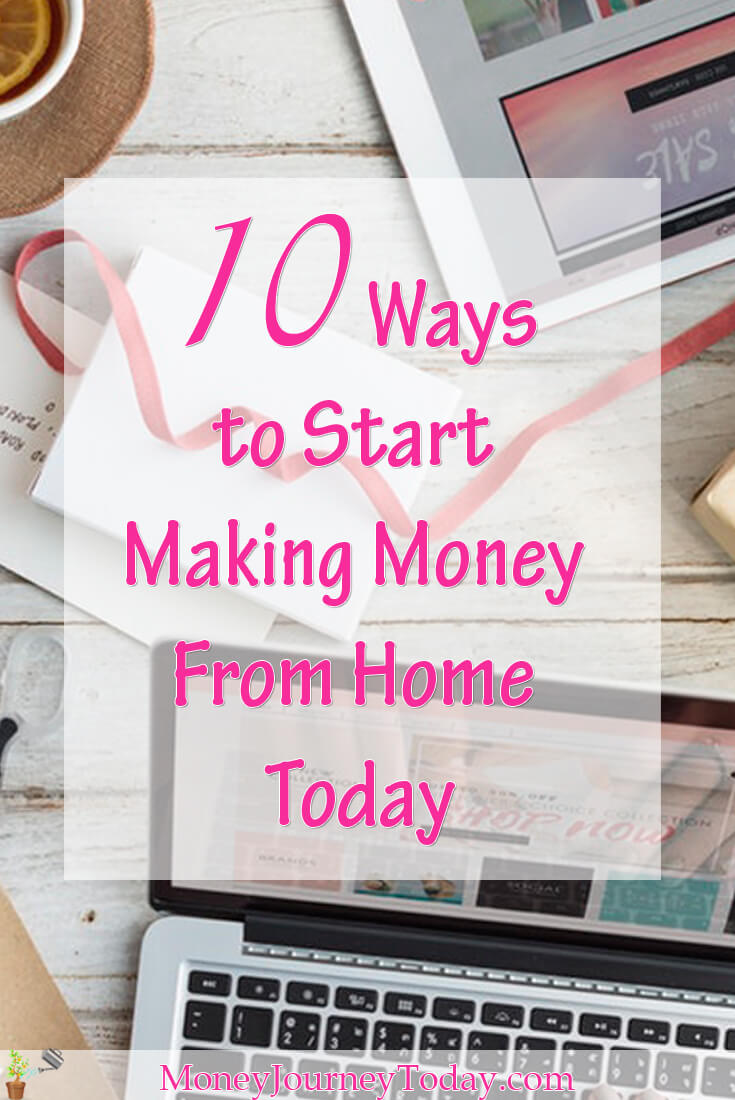 1. Take part in surveys
One quick and easy way to make money from home is to take part in paid online surveys. Consumer opinions are very valuable to branding and marketing in the modern age. Many companies pay to conduct research on consumer opinions. All you have to do is answer questions about certain brands and services. Depending how many surveys you do, you could make around $250 a month.
2. Online activity
Similar to brands, online services pay in order to enhance their quality and popularity. There are countless activities you can take part in online in order to make money. These include watching videos, testing websites, using certain search engines, commenting and posting on forums,
3. Focus Groups
A popular way for companies to receive feedback from their customer base is to organise focus groups. You can take part in these online in order to earn easy money. All you need to do is tell them your ideas and opinions, and they'll pay you for it!
4. Freelancing
If you have some spare time and skills, you can get paid to do all kinds of different work online. There are many legitimate sites that allow clients to hire freelancers. Clients can usually pay for projects per hour, or per assignment. The types of work in high demand include code development, marketing, writing, translation, and data entry, among many others. Just create a profile that describes your skills and the work you are looking for to begin applying for jobs.
5. Online Juror
Are you a fan of courtroom dramas? Then this one is for you! The internet has completely changed the ways in which attorneys can prepare for trial. One tool they use is online mock juries. These allow them to determine case value, develop the main themes of the case, and learn popular attitudes. By participating in online mock juries, you can make $5 to $10 for each case you evaluate, depending in its length. One popular site for online mock trials is eJury.
6. Tutoring
Put your education to good use by tutoring from your own home. Not only will you be helping others learn, but you will be learning yourself by teaching. You can either tutor in person or online, and you can make up to $30 an hour for it. This way, you can make money while choosing your own schedule to suit your needs.
7. Be healthy
Yes, that's right, you can make money by making healthy lifestyle choices! What better motivation to exercise, eat nutritious food, and sleep well than money? Achievement does exactly this, rewarding its users with money via PayPal or direct deposits. Not only will you be motivated to make choices to benefit your health, but you'll make money doing it!
8. Sell second hand
A lot of people have many more belongings than they need, or even want. When you declutter your home, dumping the things you no longer want to keep is wasteful. Instead, sell them online using one of the countless sites and apps designed for selling and buying second-hand items. You make some money back, and the buyers benefit by saving money on their purchase. It's a win-win situation. Alternatively, go traditional and organise a garage sale. Free up space in your home and in your mind to make room for the things worth caring about.
9. Rent out your property
If you have things you don't always use, but would like to keep, you can still make money by renting them out for others to use. Sites like RentNotBuy and Loanables allow users to lend and borrow sports equipment, electronics, tools, clothes, books, and many more items for a fee.
10. AirBnB
AirBnB is all the rage these days, and for good reasons! If you have a spare room, or are willing to share your house with others while you are away, you can make money with AirBnB.
AirBnB makes the process simple and secure. Just create a profile, upload some pictures, and start communicating with potential customers. You'll be making money in no time.
And if these aren't enough, check out 15 more side income ideas that can definitely help you start making some cash from home.