It's funny how appliances blend into the background of most homes. Despite the miraculous work they do, we barely think about our fridge, stove, or washer/dryer – they're just there.
And then, one breaks down. Within hours, we quickly realize how much we depend on them for our daily lives. Desperate to regain their function, we throw every dollar we have at the problem.
And, if you're among the many who can't afford a $400 emergency, you borrow, often at 20% interest. Sudden events like these can easily blow a hole in household budgets. Bill payments can get delayed. Things that make life worthwhile, like trips, get canceled.
You deserve better than this. Below, we'll show you how home warranties can help you regain peace of mind in these tight economic times.
Appliance breakdowns are hugely disruptive to everyday life
It's an average weekday. You've gotten home from work, and the kids are playing video games in the den. That morning, you moved frozen hamburger from the freezer to the fridge. The time has come to start prepping dinner, so you open the fridge door…

…only to get hit in the face with room temperature air. What the heck? It appears your fridge died, shortly after you left the house,. Your meat hasn't just thawed – it's spoiled, along with everything else. Everything in the freezer is fine, but not for much longer.

All of a sudden, you have a complicated, DISRUPTIVE situation on your hands. Now you have to (a) throw out most of your fridge food, (b) figure out what to save from the freezer, and (c) call a repair person.

This scenario, of course, has never happened before. After hacking together a new dinner on the fly, you'll need to search online for a fridge repair person. Then, you'll have to call them over to fix your unit.

In the meantime, you're ordering out for every meal, which exacts a toll on your financial & physical health. Finally, you get the repair bill. If your refrigerator is fixable, you could pay as much as $400.
However, if the unit is beyond repair, you'll need to replace it. These days, most new models can cost $1,000 or more – a sum that may be beyond your means.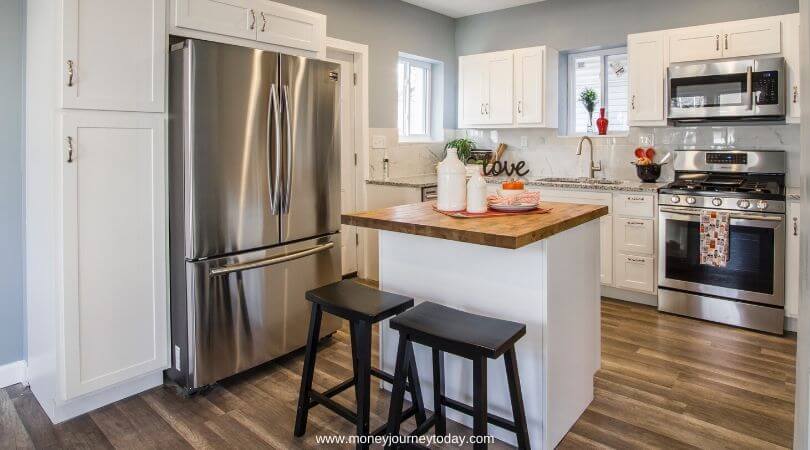 What can you do to prevent these shock expenses?
Just as the sun rises in the east, mechanical breakdowns are inevitable. That's why homeowner insurance policies exclude wear & tear expenses. While you can't predict when appliance failure will happen, the laws of physics guarantee their eventual occurrence.

Despite your insurance provider's refusal to cover repair expenses, you will have to deal with this bill someday. However, these events don't have to have a drastic effect on your finances. There are two ways you can shield yourself against unforeseen appliance repair/replacement bills.

First, you can save up an emergency fund. By setting aside money regularly, you can build up a reservoir of capital for a rainy day. However, this approach requires self-discipline – human nature, being what it is, makes this difficult.

Home warranty plans are becoming an increasingly popular alternative. They mimic homeowner's insurance in several ways. First, they protect appliances from unanticipated breakdowns that occur through no fault of your own. Second, you pay a predictable monthly premium. And third, you only pay a small service fee (aka a deductible) when technicians perform work.

In a country where houses are only getting older, this coverage just makes sense. 
Be wary when shopping for home warranty providers
Little more than a decade ago, home warranties were a cottage industry. As recently as the 2000s, most homes were young enough that repair/replacement bills were manageable. However, as we approach 2020, the average home – appliances, systems, and all – is starting to fall apart.

As a result, the home warranty industry is booming. Some are making a name for themselves by offering flexible plans and responsive customer service. However, shady operators have also emerged. By taking customer money while providing little in return, they have given the industry a black eye.

Always perform due diligence when shopping for a home warranty provider. Take Home Security of America, or HSA Home Warranty, for instance. Their website gives the impression of a professional operation. However, even a small amount of online research casts doubt on this persona.
ReviewHomeWarranties.com (RHW) performed thorough research on this firm recently. Their online HSA reviews show that this company is, at best, mediocre. After examining their terms & conditions, RHW uncovered tricky wording that could ensnare the unaware.

Accounts on consumer reviews sites were far less charitable. On these platforms, tales of no-shows and two-week-long A/C repairs are common. We'll say it again – always do your research. If you hire a shady firm, a home warranty policy can quickly become a liability.   
Better options exist in the marketplace
Thankfully, plenty of market-tested home warranty firms provide excellent customer service. Select, First American, and 2-10 Home Warranty all score highly according to RHW's scoring system. These companies also enjoy better consumer feedback.
How have these companies succeeded where others have failed? It's simple, really: They focus on adding value rather than making a quick buck. Select Home Warranty hires high-quality contractors and offers quick replacement payments. First American offers bang for their customer's buck while delivering professional service. 2-10 Home Buyers has the lowest claim denial rates in the industry and has an "A" BBB rating.

It's tempting to buy on price alone. However, we strongly advise picking firms that best meets your needs. Some firms do charge more, but in return, you may get more comprehensive coverage and higher coverage caps, among other concessions.
Don't wing it when it comes to your household's financial security
Relentless cost of living increases has stretched many household budgets to the breaking point. 78% of us live paycheck-to-paycheck – if you're among them, one unanticipated bill could send you tumbling into debt.

A home warranty takes surprise repair/replacement bills and makes them predictable. Pick the right firm, and you'll have a policy that will protect you from shock expenses.