Imagine this: you've just bought your first home. It's beautiful, it has a big back yard and it even has a beautiful fountain. But your fountain… doesn't work!
If you are experiencing issues with your fountain you may be wondering who you should be calling.
Can I quickly fix it myself? How much will it cost? Is there an article online with pictures I can follow? Is there a specific fountain repair company out there?
Choosing the right concrete repair company, with lots of experience dealing with the many different issues when it comes to fountain repairs, is a must. Whether the fountain you want to fix is your personal one, one for your business, or on residential property, you should always find a way to repair it.
Tips to repair your fountain on a budget
For the area to be kept in great condition and attractive, it's important to fix your fountain as quick as possible. We first recommend trying a few of the tips below.
Keep reading to learn about a few recommendations on common issues that can occur and save you the time and money of hiring specialist. If those don't work, you will have to call a trusted repair company.
If you would like to try to fix your fountain yourself, that's great. Maybe you can even get the beginning steps out of the way, so the repairs won't cost too much later. Water fountains add a lot of beauty to so many backyards, so if you can catch any issues earlier on, this will also save you a lot of time and money.
The first step is to turn everything off and power down your water installation. In fact, the water fountain should not have any water in it for about one week. This will allow it to be totally dry. If it may rain, try and cover the fountain with a tarp to prevent any water from getting inside.




---

The second step is to try and see what needs to be repaired. It may be hard to see the cracks if they are small when it is wet. This is one of the main reasons why it's important to wait until it's dry to do the next steps.




---

The third step is to remove any debris that are on the rock. Some may have gotten stuck in the crack and that is preventing water to run through smoothly. Use a stiff brush for this process.




---

The fourth step is to get a sealant ready. You will need to mix materials together and use this material to match up any cracks you found. Make sure you do a great job of this part. Ensure any cracks are fully filled and even.




---

The fifth step is to ensure everything is dry before doing anything else. If you start the next step before it is dry, the sealant won't work. You will then repaint over the sealant once it is dry with the appropriate color.




---

The final step is to turn everything back on. If it works again then you repaired the crack and you shouldn't have any other issues!
If you try these steps and it's still not working, it may be best to contact a concrete specialist that deals with fountains on a regular basis. They will be able to help you quickly and effectively, so your fountain is back up and running again.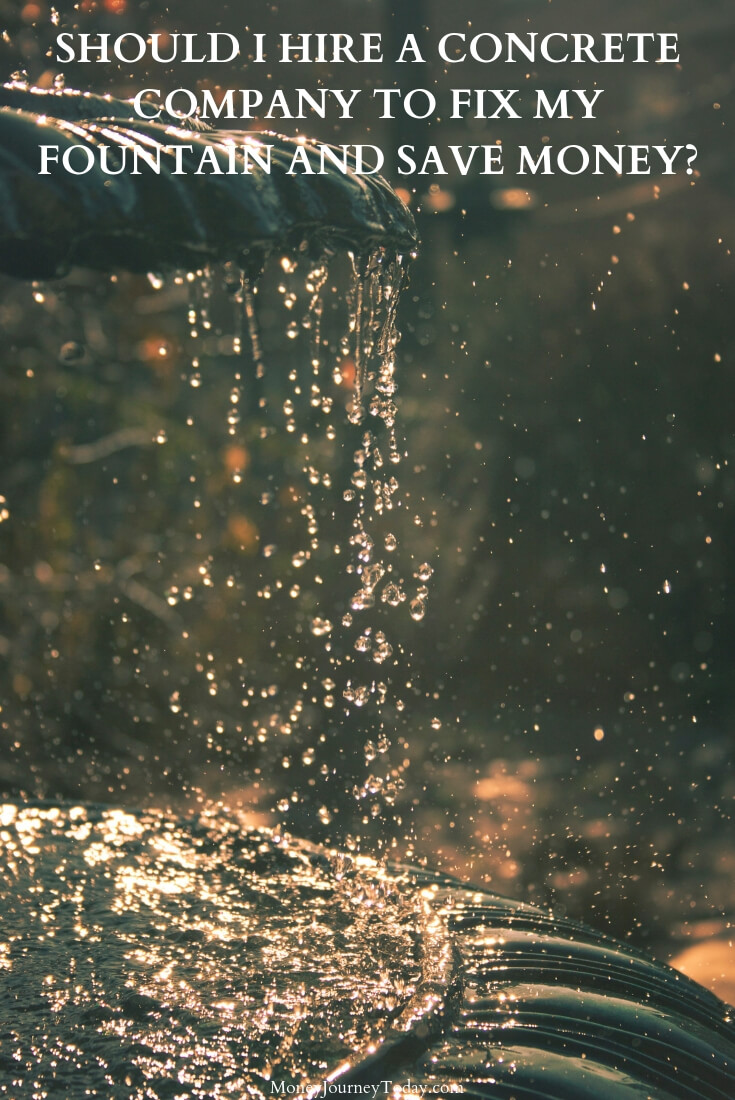 What else can you do to fix your fountain?
With that said, there are a couple other things you can try to see if it will help fix your water fountain issue.
Firstly, ensure there is not a broken water pump. If the water is still moving, but moving slowly, this may be the reason. A water pump can get clogged from nature of any kind like twigs or even trash being stuck in them. Make sure nothing has been launched in them.
The final issue that may be a quick fix is if there have been chips that need to be repaired. Chips can be repaired quite easily. You will blend and fill in any issues. It's important that you follow the box directions and then create a smooth surface after. After you make it flat, allow it to dry before doing any additional steps. Don't worry if it doesn't match your fountain, you can always pain over it after.
Mistakes to avoid when repairing your fountain
There are a few mistakes that can be made when you are doing the job yourself to save money. We have listed them below so you know what to avoid.
The first mistake is not knowing the maximum dimensions that can be used. If this occurs, the pad that was made ends up being too large for the area.
The second mistake is not making the concrete level after laying it. It's important so it's not uneven on some areas. Make sure you have it even before letting it dry.
The final mistake is just adding some ingredients and not measuring it when making concrete. You may think to yourself that is looks just fine, but it's important that the ingredients are measured perfectly so they work how they are supposed to. Not only will this waste you time, but that may have been the issue with the water fountain and now you will have no idea what the issue is, when that may have been the issue all along. You simply didn't fix it properly. Make sure you measure it out, pour it properly, and finally finish using the concrete correctly.
Hiring professionals also means there will be little down time. If you do it yourself, you may be saying goodbye to a week (or even two). In many cases, fixing a fountain may require renting a concrete mixer as well as having specific tools and gadgets to fix the problem. Therefore, if it is a larger problem, it's always important to contact a concrete company that can help.