Today we have a guest post from Angela.
Angela Colon is a freelance blogger and copywriter with a passion for person finance. 
Some people have a knack for personal finance. They can save most of their money, spend, but never get in debt. But most don't fall in that camp.
Christmas presents, restaurant visits, and before you know it, it's thousands of dollars of debt. Have you ever woken up and thought "I don't have any money" or "Where'd it all go"?
Finances are an everyday challenge. Sometimes it can seem impossible to get control of them. When the costs are mounting and bills need to be paid, it becomes crucial to take back control.
But there is hope. Whether your financial problems resemble a mountain or a small peak, doing something about it is never too late.
We are going today through a step-by- step list of the best ways to take control of your finances.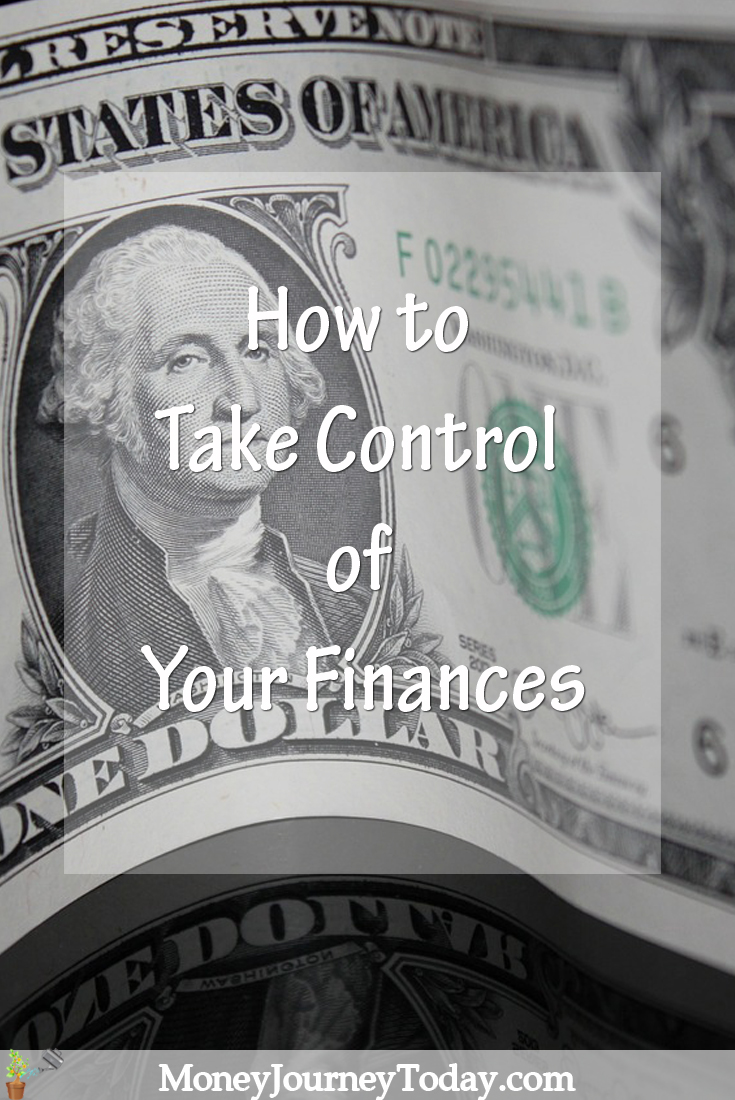 Take a Hard Look at Yourself
Sometimes the biggest hurdle is yourself.
How do you fix your finances if you believe things will never improve? I know I'm guilty of this myself. You don't even know where to begin. You feel like you lost control of your own future. Like there is nothing that can get you out of it.
But you are your own worst enemy.
The day you start believing that you can achieve your goals is the day it will start happening. That voice in your head is not helping. It's only hurting.
The mind is a powerful tool. I've seen firsthand how my mind can hurt or help my chances. Even when it comes to simple tasks. I was convinced as a teenager I couldn't cook. Whenever anyone mentioned cooking, I would make fun of myself because I knew I wasn't good enough.
But then my husband offered to teach me to get better. I was skeptical but gave it a shot. And I realized cooking was mostly boiling water or heating up pre-cooked food.
Check Your Spending
Spending is easy. Just swipe once. How much is even left in the money balance? With the plastic credit card, it seems like it doesn't matter. Ten dollars for a book, five dollars for lunch, and another fifty for that TV show. Spending adds up fast.
The problem is you don't see it add up. Until it's the end of the month, and you're staring at the bills wondering what happened.
Don't let this happen to you. Dive into your bank account. The waters may be murky, but it's the only way to find the sharks.
Pinpoint Problem Areas
Curbing your spending isn't easy. But your spending habits act like a window into your finances. Shine a light on yourself and learn where the money went.
Scroll through your bank statements and find trends. Do you buy too many clothes? Or maybe your Achilles's heel is food? I know food is one area I have to keep an eye on. I could spend all my money on going out to eat. I'm part lazy, part cook, part food-lover.
Whatever the trend is you need to figure it out. Once you know what it is, you can definitely fix it.
Make SMART Goals
Making SMART goals is one of the best ways you can guarantee an improvement. A SMART goal is specific, measurable, achievable, relevant, and time bound.
If you would like to learn more about SMART goals, check out the link. Otherwise, here's a brief explanation.
Let's say you want to reduce your spending on food. To make a SMART goal, you need to go into detail. For example, my goal is to spend a maximum of two hundred dollars on fast food monthly for six months.
By giving the goal a timeline, you can give yourself breathing room. You won't be doing it forever, but just six months. Last, you are being specific about the change your making. You're not reducing spending, you are spending two hundred dollars.
It will allow you to achieve whatever you set out to do.
Selecting a goal that you can measure with an achievable deadline will put you leagues above average Americans living in fear of their finances.
Start Tracking Your Spending
So, you have a goal. Now what?
The next step is to keep track of your finances. Often, this is the step that has me crawling back to a bad habit.
Tracking finances is hard. There are so many purchases made on a monthly basis. From monthly bills, to credit cards, emergency purchases, to entertainment. The numbers are endless.
Live Anxiety Free
The biggest hurdle is getting started.
One month. One month following and tracking your goals can break a habit for you. From there, it will get easier and easier.
Before you know it, you can check your bank account without worrying.
Financial freedom is a challenging and difficult process. The first step is to take back control of your money. Once you start taking a look at yourself, pinpointing the problem areas, and take steps to improve your spending, you can live without financial anxiety. You will know exactly where all your money went.