When was the last time you requested a copy of your credit report?
If you are like most Americans, it has been six months or longer since your last reviewed the personal information that affects your ability to qualify for a good mortgage rate or open up a new credit card.
Half of Americans haven't checked their credit report in the last six months, but even more alarmingly, 18% of people haven't checked their credit report at all.
This isn't good news. Checking your credit report isn't difficult to do but is critical to having healthy personal finances. Many people just don't have enough knowledge and experience to feel comfortable with doing it.
In this article, we'll discuss why should you check your report, how you can request it, and what you need to watch out for.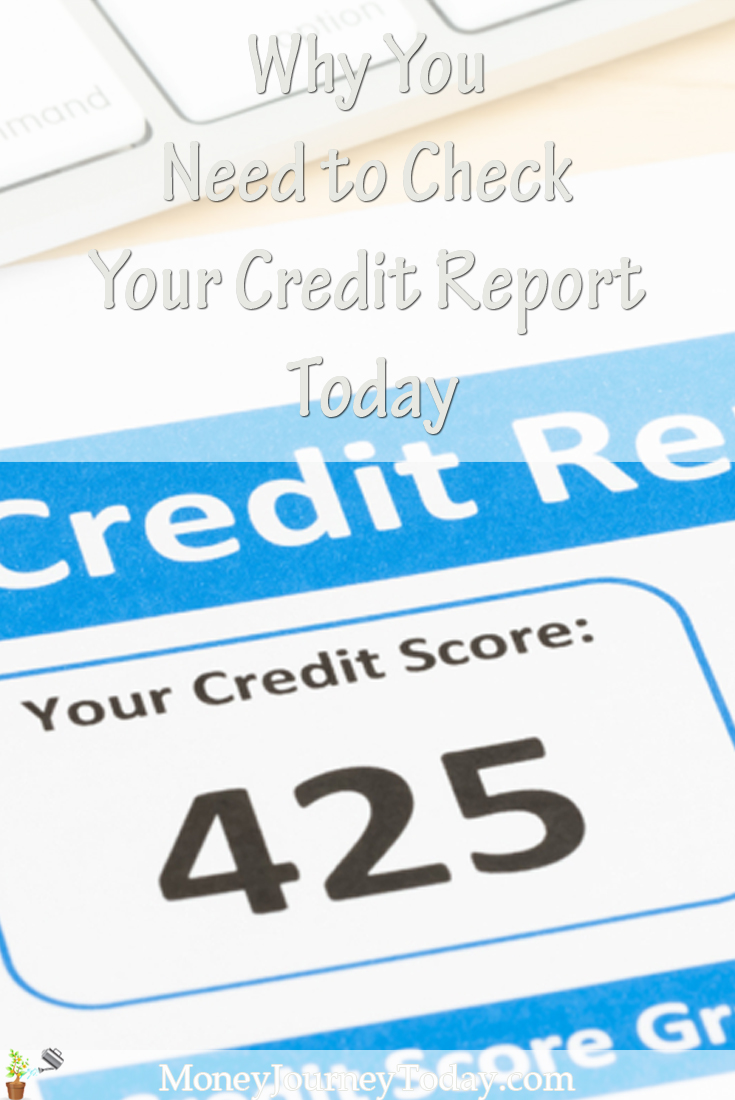 Why You Should Check Your Credit Report
Your credit report matters… a lot.
Almost every major financial decision you can make will be affected by your credit report:
● Interest rates on your mortgage or auto loan
● Chances of approval when opening a new credit card
● Your application for renting a new apartment
Unfortunately, it doesn't stop there. Adriana has already shared with Money Journey Today readers a few of the consequences of bad credit. In addition to the major reasons listed above, individuals with a bad credit report may end up with:
● Resistance when finding a job (in some specific roles and industries)
● Higher insurance premiums
● Difficulty getting a cell phone contract
With so much on the line when it comes to your credit report, you don't want to wait until you are about to make a major financial decision.
It's Not Just About Money
The importance of checking your credit report isn't just based on your finances – it's also about your identity!
By reviewing your credit report frequently (at least every six months), you can increase the chances of catching signs of identity theft while it is still early enough to minimize the potential damage.
Don't think you're at risk for identity theft?
Last year, credit reporting agency Experience reported that hackers stole the personal data of over 143 million Americans, including social security numbers, birth dates, and home addresses.
Just because you haven't noticed any suspicious activity doesn't mean you are off the hook yet.
Criminals are willing to wait several months – sometimes even years – before exploiting your identity and credit history for their own financial gain.
No matter your whether your concerns are financial or personal, it never hurts to review your credit report on a regular basis.
How Can You Check Your Credit Report
The federal government has made it easy to check your credit report. According to law, you can request your report from each of the three major agencies – TransUnion, Equifax, and Experian – once every 12 months.
This means you could request your credit report every four months at no charge by rotating between each agency.
Requesting your credit report is easy: just visit AnnualCreditReport.com. This website is the only one authorized by federal law and utilizes encryption to protect your personal information. Be careful to make sure you visit the correct site before requesting your report.
It takes just a few minutes to check your credit report. There are three main steps to requesting your report:
1. Fill out your information including name, birth date, social security number, and address
2. Select the credit reports you want to receive (just choose one so you can use the others
late)
3. Verify your personal identity by answering a few specific questions
That's it! I was able to request my report in just 3-4 minutes while writing this article.
What To Watch For on Your Credit Report
After requesting your credit report, the next step is reviewing each of the details provided in your report. Whether you are preparing to apply for a mortgage or just want the highest possible credit score, it is important that all of the information on your report is correct.
The report is split into a few main categories. Reviewing the information on your credit report takes only 10-15 minutes.
Personal information: Are my name, current and past addresses, phone numbers, and employment information all correct?
Account status: Are the balances and payment history accurate? Are late or delinquent payments marked correctly?
Credit inquiries: Did I make the credit inquiries listed on my account? Is there any suspicious activity?
Most of the information on your credit report is pretty straightforward. None of the details should come as a surprise to you if you already keep an eye on your credit cards, mortgage, student loans, etc.
If any of the information on your report that aren't familiar with, try searching online for the address or phone number associated with the account or making the credit inquiry. If the search results don't jog your memory, you can contact the company directly to get more information.
Conclusion
Unless you can recall checking your credit report recently, you should schedule a specific time in the next few weeks (if not today) to request and review your credit report.
Vigilantly monitoring your credit report will help protect your personal identity and assist you in reaching your major financial goals.
Checking your credit report isn't difficult or expensive. If you know what to watch for, reviewing your credit report will provide greater financial peace of mind and security. Take a few minutes today to review your report – and mark time on your calendar to do it again six months from now.
When did you last check your credit report? What do you watch for when you review your report?