Being in a financial rot often means being in need of some fast cash. But are payday loans good or bad for your finances?
When I first learned about payday loans I thought, wow, what an awesome idea!
It's like getting your salary in advance instead of waiting weeks to save money for something you'd like to buy.
How great is that?
But of course, as with any type of loan, payday loans come with many strings attached.
While easily borrowing money is a great perk, it's best to be aware of  the financial consequences.
It's enough to fall into a payday loan trap once, and you may regret it for months or even longer.
Your finances will definitely suffer serious consequences if you're not careful.
What's worse, you may find yourself in a vicious payday loan circle, as so many families on a low income do nowadays.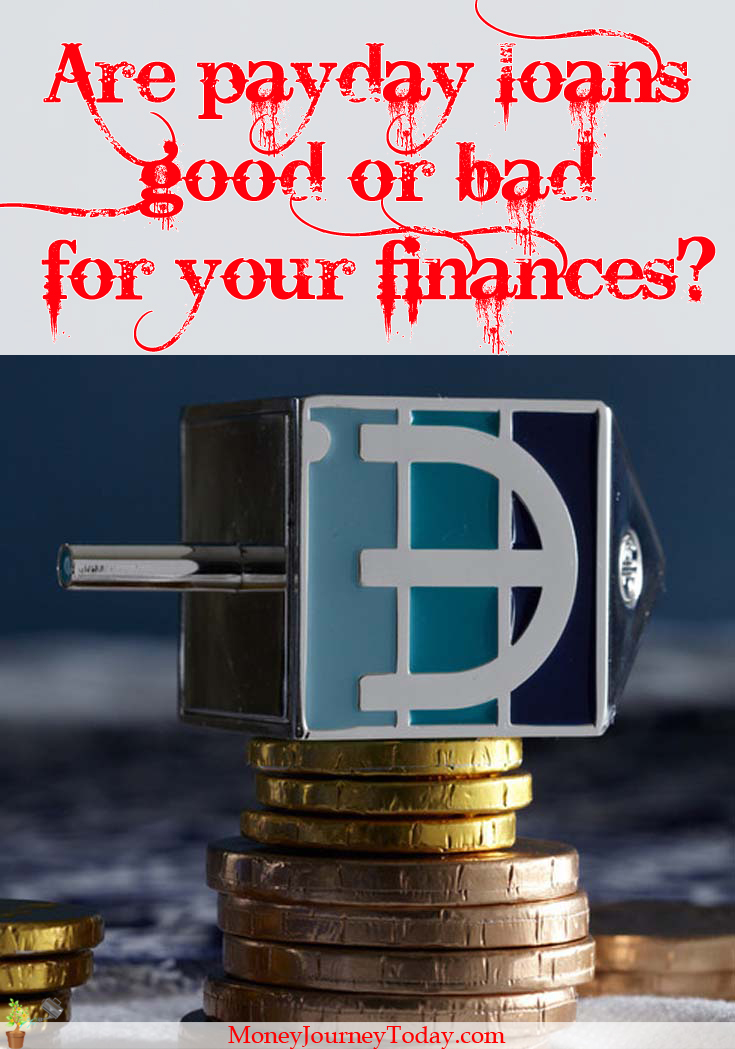 What is a payday loan?
So, what the heck is a payday loan anyway?
It's a short term cash loan, unsecured, lent with a high interest rate.
On the bright side, payday loans are designed to help you immediately get some cash you're in quick need of.
The loan is approved in a mere few minutes, and you can already make use of the money the very next day!
Unlike bigger loans, that require paperwork and 'selling your soul' to the bank for a few years.
How much money can you borrow?
Payday loans are meant to help you cover a money gap, if you can't wait for your pay day.
So, seeing how they're a short term loan, the amount is usually less than  $1,000.
Every payday lender has a different offer.
Usually, first time borrowers are only offered a few hundred bucks. Very few lenders offer up to $1,000 for first timers.
Payback plans – are payday loans good or bad for your finances?
Financial emergencies can occur in any moment.
Maybe your car broke down and need to repair it ASAP!
Or bills are piling up and you just can't wait to start making payments.
While being able to get your hands on some quick cash is great during an emergency, you'd also have to quickly pay back the money you borrowed.
A payday loan differs from a 'regular' loan.
Instead of borrowing money long term, lenders typically expect you to pay everything back within a few days.
If everything goes as planned, you'll only lose money in interest rates.
But if you won't pay the loan back in time – brace yourself – you're in for a bumpy financial ride!
Payday loans are expensive.
While they're much more expensive than a long term loan, they can still set you back financially.
---
Interest rates
There are many studies that tackle payday loan interest rates.
Wanna know what they have in common? A very high average interest rate as a result!
Typically, average annual percentage rates range from 390% to 780% for a short term loan.
This means you'll enjoy your short term loan only for a few days (or weeks).
After that, you'll have to come up with a lot more money than you borrowed and pay everything back on time.
---
Hidden fees
If you're in need of a quick cash fix, chances are you'll miss reading the fine print of your payday loan agreement.
Did you know you also pay a fee just for borrowing the money?
It's about 15% of the total amount you're gonna need.
Some lenders charge more, you could end up paying $30 for every $100 you borrow. This is in addition to the interest fees and everything else.
So, beware of these extra costs.
Payday loans are supposed to fix an unexpected financial problem, not cause more financial damage.
---
Paying back the loan
Say you run into more financial trouble and are unable to pay back the payday loan on time.
What happens?
Unfortunately, according to the Consumer Finance Protection Bureau, 4 out of 5 payday loan borrowers are unable to pay the debt back on time.
That's 80% of all borrowers who end up stuck in debt!
There are several reasons as to why this happens, but the most common problem is the fact that lenders usually have access to your bank account.
There are major 2 downsides to allowing payday lenders to access your bank account.
If you have funds available, lenders can automatically withdraw their 'share'.
This means they withdraw their installment and charge a withdrawal fee each time this happens.
Seeing how they're entitled to take their money back, the situation can easily turn into you a financial setback for you and your family.
You either are left with little money for the upcoming month, or you'll need to take out another loan or borrow money from somewhere to make ends meet.
The second downside – and a major one it is – is you not having funds available on your payday loan due date. In this case, the loan will be automatically rolled over.
Don't smile yet, this means you'll end up paying even more extra fees.
---
Collection practices
While payday lenders are being closely monitored in many states, there are still plenty of loopholes lenders take advantage of.
Often times, people seeking out a quick financial fix are literally being scared into paying more than they owe.
Not only that, but there are many payday lenders that operate online.
Many online practices can turn out to be scams, but there are so many of them out there already, it's difficult to 'hunt ' them down and protect consumers!
Certain collection practices are illegal, but borrowers are under so much pressure, often times they don't even realize it.
---
After giving payday loans some thought, I hope it'll be easy for everyone to realize there's no such thing as easy money.
It's usually very easy to be approved for some quick cash.
Many lenders don't even care you have a bad credit score or are clearly unable to pay back the money you're about to borrow.
Being in need of a payday loan is understandable, but if you're not careful, such a decision can quickly turn into a debt nightmare. The financial implications are huge, especially if you're on a low income.
The following two tabs change content below.
I'm Adriana, a passionate personal finance blogger &
web content writer
, helping people improve their website rankings and attract more visitors by creating high-quality, unique content.