Which are the best home improvements to increase a property's value? 
Whether you're looking for ways to get a better appraisal or increase the value of your home to attract better tenants or buyers, investing in home improvements and small renovations are a must.
Unfortunately, not all home improvements offer the best value for your money.
Although time consuming, remodeling can be a fun and interesting project. But giving your home a total makeover can turn out to be an expensive investment.
Some home improvements yield a higher ROI than others. Find out which.
Best home improvements to increase home value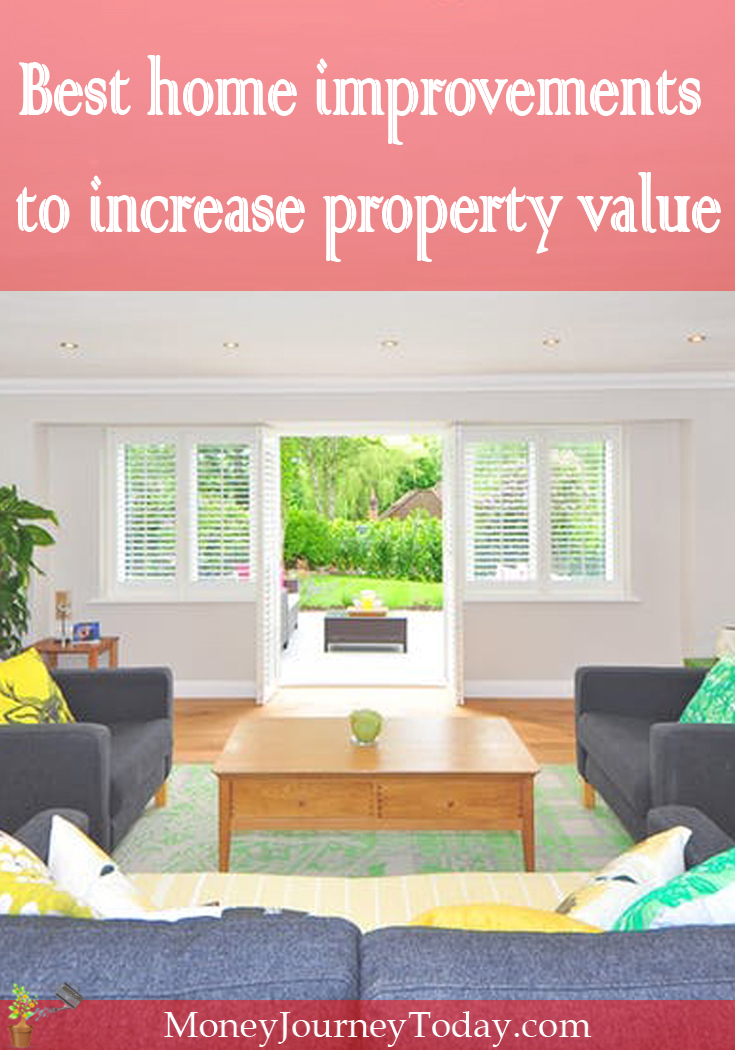 Fiberglass insulation
---
Fiberglass insulation helps keep energy costs to a minimum.
Most homes should already have efficient insulation, but an update can't hurt. You can add extra insulation for the attic, to save even more energy for instance.
Energy efficient insulation helps save money all year long. It prevents the heat from 'sneaking out' during winter and it keeps you home cool during summer.
Spray foam is actually more energy efficient than fiberglass, but the cost is much higher. So, if you're looking to save money on this home improvement, know that fiberglass is the most popular choice.
Kitchen remodel
---
Whether it's used for cooking family meals or not, remodeling the kitchen always pays off!
For the past years, the kitchen has transitioned from 'the cooking room' to a much more personal area.
People relax and watch TV in here, families spend time in here to eat (since it's so much more comfortable than dragging the food back and forth into the dining room), freelancers often use this room to work.
It's not just a kitchen anymore, it's the heart of a home. So, small and modern improvements of the kitchen can seriously increase your home's value and make it more appealing to potential buyers or tenants.
A coat of fresh paint goes a long way. Improving the looks of the cupboards and replacing the ol' dusty appliances with energy efficient ones also helps a great deal.
You don't even have to spend a fortune to remodel the kitchen.
Painting is a rather 'cheap investment' and it makes a home look clean and taken care of. Appliances might exceed a tight budget, but the ROI is worth every penny.
Plus, you don't need to go overboard! Just make sure the kitchen looks clean and modern.
Bathroom remodel
---
Bathrooms are probably the most personal rooms in a home.
Yes, they even trump the bedroom!
Who wants to do their business on an ancient toilet while looking at a rusty, leaky faucet?
So, making sure your bathrooms looks clean and cozy will definitely drive the home value's up.
There's no need to go overboard with the remodeling of a bathroom either. Installing new water taps, getting a new shower head and installing a heated towel rail should be enough.
Or, you can fork out some more money and replace the old sink if it's old or broken and install a big-ass mirror above it. That seems to always draw a lot of attention.
Windows and doors replacement
---
Do you still have old-fashioned single-pane windows that aren't properly sealed? Replace them immediately!
Poorly sealed doors and windows are the reason my other half and I moved into a different apartment. Paying ridiculous amounts of money for heating up the place every winter was definitely not a long term plan.
Installing energy efficient windows and replacing the front door for the same reason will help drive your home's value up.
Internal doors, on the other hand, could easily be re-painted. My dad just finished giving our old apartment doors' a cheap makeover. They were all scratched out by the family's 2 dogs and looked like a scene from a horror movie! However, a fresh coat of paint made them look brand new!
Curb appeal
---
There are countless ways to add curb appeal to your residential property and most are either free or extremely cheap!
Trimming a couple of bushes and mowing the lawn can be done for free. Painting the font door requires more time than money. Planting some pretty flowers or bushes is really no big deal.
Regardless of the reasons why you need to drive your home's value up, make sure you take care of the exterior of your property. It's literally the first thing everyone sees while passing near your house!
Other small home improvements that increase a home's value include, for instance, getting rid of mold (we've already done that a couple of times). Or, replacing a broken garage door. But common sense states you should take care of these problems right away anyway.
What are some home improvements you've done lately?
Did they meet your expectations and increased you overall home's value?
The following two tabs change content below.
I'm Adriana, a passionate personal finance blogger &
web content writer
, helping people improve their website rankings and attract more visitors by creating high-quality, unique content.