Are you looking for some frugal mother's day gifts & surprises?
Mother's day is approaching really fast, and while many may think mothers deserve sparing no expense, I still can't shake one important thing my mom taught me: the gesture is all that matters.
Even though mother's day is literally just around the corner, there's still time to decide on a frugal mother's day gift! 
Moms all over the world will love any surprise that comes from the heart, no matter how small. The important thing is to show you care, so read on and see if you can get inspired by some of the ideas below.
As long as a gift comes from your heart and not from your wallet, you can't go wrong! 
Frugal mother's day gifts & surprises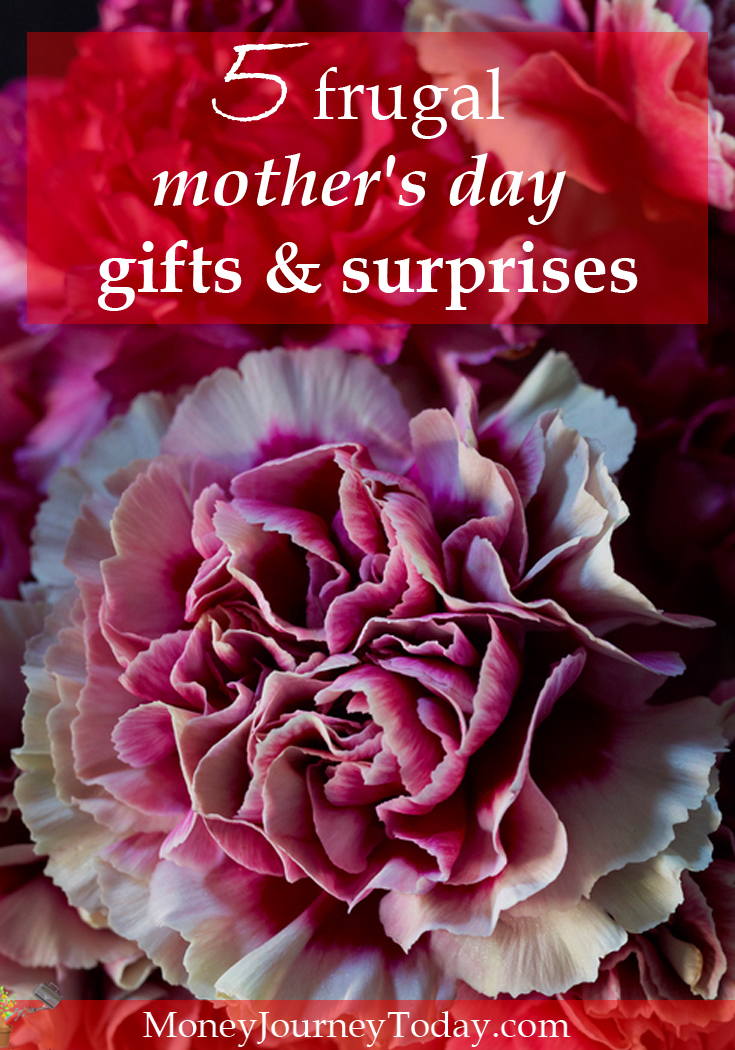 Create a Mother's Day personalized card
---
While shopping for a Hallmark mother's day card is probably easier and less time consuming, creating a personalized one definitely screams personal approach!
I especially love J.Money's idea on how to save money on cards. Reviving old great memories is always a great idea for a gift!
However, if just like me you had your basement ransacked and lost all childhood memories, you can always create new ones!
My personal favorite: have your kids make an awesome card for their grandma (because an adult drawing a mother's day card is just weird!). Alternatively, browse through old photos and print out a card yourself, using memorable family photo as the background.
DIY mother's day cards are not only amazing gifts, but they're also the most frugal thing I can think about that any mom would love!
Spend Mother's Day with your mom
---
Another great gift you could give your mom is spending the whole day with her. After all, the 14th is Sunday!
Have a frugal family fun day and take lots of pictures to remember it.
There are tons of family activities you could plan for this Sunday.
Family picnics sound nice, especially if the weather's nice.
Treating your mom to drinks, a meal out or a movie also sounds like fun.
Or, better yet, visit some place new and create new memories together. You can always find ways to enjoy a low cost city break, so why not take advantage and travel with your mom?
Alternatively, if you're looking for a really frugal way to spend the day with your mom, simply give her the day off! Help out with chores around the house, maybe cook her a meal and let her rest for a change.
Put together a Mother's Day gift basket
---
Do you want you mom to actually tear up wrapping paper and feel like a child at Christmas again?
That's easy to accomplish: simply put together a gift basket, including some of your mom's favorite things! Her favorite chocolates, a bottle of good wine or home brewed beer, individually wrapped candy (just for the fun of it), maybe throw in some family pictures or a card her grand-kids made.
What a better surprise for mother's day than an actual thoughtful frugal gift!
Buy flowers for Mother's Day
---
While giving a flower bouquet as a gift is nice and thoughtful, the one thing I dislike about it is the short lifespan of the flowers.
But, instead of going the classic way and buy her a bouquet that will eventually 'die' in a vase, why not get her a potted plant?
My mom has a soft spot for carnations. Coincidentally, this is the official flower for mother's day!
So, whether they're also your mom's favorite flowers or not, you can't go wrong with carnations. They're easy to take care of (they only need small quantities of water, bright but indirect sun light and pests are not a problem) and they're great to decorate a balcony or your mom's flower garden.
Splurge on a useful Mother's Day gift
---
Splurging on a mother's day gift is far from being the frugal thing to do! However, if you already have money saved up or plan to continue to save on a regular basis, splurging on you mom every once in a while can't hurt!
Instead of getting you mom a bunch of stuff she doesn't need just to show you remembered her special day, buy her something useful!
Did your mom 'hint' she needs a new phone? Maybe she can't afford the subscription to her favorite magazine anymore. Or she might need a new pair of shoes, but she's just as frugal as you are and refuses to splurge on herself.
Whatever the case and regardless of the gift you choose for your Mom's day, make sure it's personal and thoughtful!
Nothing screams "I forgot about Mother's Day" more than a generic gift you definitely bought at the very last minute.
Mother's day gifts and surprises don't have to generate tears or anything, but showing your mom you care every once in a while will definitely make her feel special. Especially if you put more thought than money into your gift idea.
What will you get your mom for Mother's Day? How much do you think she'll love it?
The following two tabs change content below.
I'm Adriana, a passionate personal finance blogger &
web content writer
, helping people improve their website rankings and attract more visitors by creating high-quality, unique content.