Refinancing a mortgage often means jumping through some serious hoops.
You would think having a good credit score is enough, but going through a home appraisal checklist for refinancing could save you a lot of money and a lot of headaches as well!
If your appraisal is too low, you risk being denied the mortgage refinancing. Or, if you think things can't get any worse, you can get approved, but under horrible loan terms.
The good news is, even if there are certain home appraisal aspects you cannot change (location and size of your house, for instance), you can still be in control of boosting your home's value, if you know how to impress your appraiser!
If you prepare your home ahead of time, you can definitely increase the property's value. Here are a few ideas:
Home appraisal checklist for refinancing a mortgage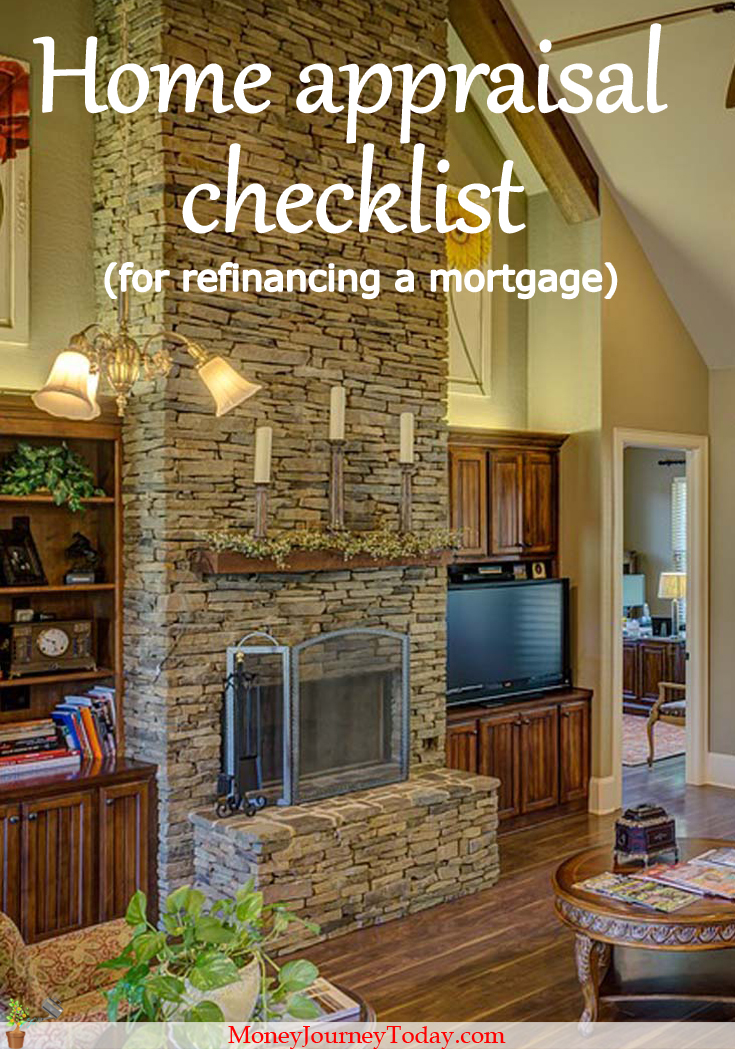 Spruce, clean and declutter
---
Start with the most obvious move: make sure your home is clean and welcoming!
Nothing makes a great first impression than a clean and modern home.
A home appraiser is a human being after all.
If they come in and first thing they see is dust everywhere, dirty laundry and a wallpaper as old as their grandmother, it might put them in a 'criticizing mood'.
Make small and necessary repairs
---
Did you keep postponing on fixing a broken door? Maybe you have a leaky faucet or a few damaged kitchen tiles.
Make sure to fix these for the home appraisal!
Showing the appraiser everything works and your home is maintained in the best conditions possible can help a great deal.
Any malfunctions or damages could lead to a decreasing in your home value.
Focus on your home's exterior
---
Don't underestimate the power of your home's exterior!
It's the first thing everyone sees before even knocking on your front door.
Maw your lawn, trim your shrubs, plant some pretty flowers if you can.
If it snows, make sure you clear your driveway and shovel the snow in front of your house.
Homes with a nice exterior usually receive better appraisals.
Curb appeal really matters and it can definitely influence your overall home's value.
Brag with what adds value to your home
---
An appraiser won't have the time to spend hours on end analyzing every little detail of your home.
Help them by pointing out what makes it great!
You already live there, so you should already know what sets your home apart from others.
The whole home appraisal process is also based on comparison between your house and a few others in the same area.
However, if you can 'brag' about what makes your home great, you could help increase its value.
Know the value of your surrounding area
---
An appraiser will, of course, do their own research. But it helps a great deal if you already know what to expect and how to challenge a possible low appraisal.
Doing your own research is possible, since you can either talk directly to your neighbors to find sales prices in your area or you could research public records from your local county office.
Not only that, but good schools, new restaurants or great local amenities will definitely drive your home's value up!
Document any improvements
---
Did you install a new fireplace? Or remodeled your bathroom?
Document every improvements you've done to your home and showcase them.
Any upgrades, no matter how small, will have a positive impact on your home appraisal.
Make sure to highlight any repairs that aren't immediately visible, like improvements to your heating and cooling system, electrical system upgrades, and so on.
Don't nag the appraiser. Ever!
---
Nagging your appraiser every step of the way is never wise.
Sure, inform them about all of the above (upgrades & improvements, research you've done on other houses sold in the last 6 months) and be prepared to answer their questions.
Just don't be all in their face while they're doing their job!
So, when your appraiser starts their inspection, try to act 'cool'.
Nothing screams "there's something wrong with my house" than constant hovering.
An appraiser is an expert whose job is to determine to value of your home. But they're human beings, just like everyone else.
Follow this home appraisal checklist for refinancing and you'll definitely turn your home inspection into a pleasant experience for both the appraiser and yourself.
What other tips can you think of that can help get a higher home appraisal?
Which tips do you think work best and which would you say are useless?
The following two tabs change content below.
I'm Adriana, a passionate personal finance blogger &
web content writer
, helping people improve their website rankings and attract more visitors by creating high-quality, unique content.