Kitchen tools!
How would we even enjoy cooking without certain kitchen appliances that save time and money? 
Knowing how to grocery shop smart is definitely important (regardless of the size of your budget) but cooking every meal from scratch is, without a doubt, the n°1 way to save money for every family living paycheck to paycheck.
The problem with home cooking though is, if it takes too much time, many will feel inclined to order in or eat out.
Not everyone has the willpower to spend hours in the kitchen after a long day at work or slave over a meal with small children running around the house.
Let's face it, time is precious, so the sooner you finish cooking, the better!
But what about money?
What if your kitchen appliances can save a ton of money in the long run as well?
These following 6 appliances are the ones I personally use on a regular basis.
Granted, not all of them are cheap, but in the long run they really save a ton of time and lots of money too!
6 kitchen appliances that save time and money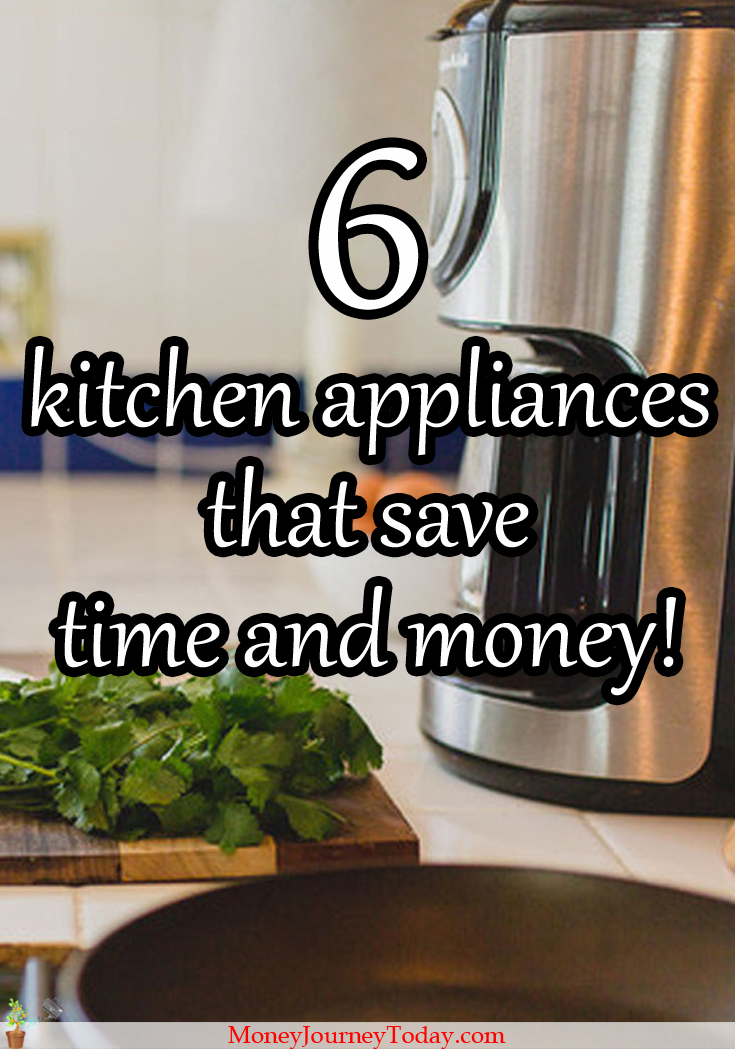 Coffee maker
---
Hello. My name is Adriana and I'm a coffee junkie.
There, I said it!
I need to start my day with a cup of coffee. And since buying it costs at least $1 a cup, I prefer to make my own.
I have my trusty ol' moka pot I use on a daily basis.
However, I sometimes use the coffee filter machine as well (usually when we have company over). They're both great at preparing top-notch cups of coffee at home.
The latter does come with additional costs, since you need to keep buying coffee filters, but it's still way cheaper than spending money at the coffee shop.
Bread machine
---
We bought our first bread machine in 2014. Three years later, it still bakes our bread at least 3-4 times a week.
This particular gadget set up back about $70 back then, but in return we got to save money with every single loaf of bread we baked at home.
I also believe home made bread it healthier as well (God only knows what certain store bought bread contains..).
It's true, investing in a new bread machine could be expensive, but as is turns out, there's always a way to buy a used bread machine for a fraction of the price.
It takes exactly 3 hours for bread to be ready (+ the additional 5 minutes it takes to throw the ingredients in).
But you do save time, if you think about it.
The bread machine does everything, while you could be productive and use that time to focus on something else!
Hand mixer
---
I must admit, I find professional kitchen appliances to be way too expensive for my taste. And some are even way too big to fit in our small apartment!
However, I do love to cook and bake so a hand mixer is the perfect little helper.
There are still plenty of people who prefer to manually prepare a mayonnaise or stir into a bowl of cake dough.
But when time is of the essence, a hand mixer can help a great deal!
Hand mixers are also great for obtaining smooth mixtures.
Have you ever I tried preparing pancake dough by hand?
It takes so much longer to get that smooth dough ready, you probably lose interest in eating them altogether!
Centrifugal juicer
---
This is a rather recent purchase, but a darn useful one!
How much does a glass of natural, fresh squeezed fruit juice cost in your area?
'Cause around here, it costs an arm and a leg!
We do enjoy eating raw fruit, or a fruit salad from time to time, but when you're in the mood for a freshly squeezed apple juice, how exactly are you going to satisfy that crave?
A centrifugal juicer is definitely a good investment for the kitchen.
You can have fresh fruit juice at any given moment, without spending a dime. Well, except for the cost of the appliance and the fruit.
Blender / hand blender
---
You might think a blender is only good to make smoothies, but the reality is you can make so much more with it!
I've cooked delicious cream soups, made healthy smoothies and even prepared guacamole, hummus and a bunch of other creamy foods with the help of the blender.
It saves time, because it preps the food really fast!
It saves money as well, because you can avoid store bought products since you could easily prepare them at home.
Food chopper
---
Having trouble chopping an onion by hand? I used to cry all the time until I discovered the food chopper!
Cooking is now a piece of cake.
In a mere few seconds, you can chop almost anything: onions, carrots, you can even crack ice if you need to serve cocktails at your dinner party.
These 6 appliances are definitely life savers when it comes to cooking at home!
Of course, there are many other kitchen gadgets that simplify our lives on a daily basis.
Not all are necessary, but they sell like crazy anyway.
Personally, I'll stick to the bare minimum and use my available appliances to save time and money while cooking.
What are your all time favorite kitchen appliances? Or.. which of the above do you think are useless?
The following two tabs change content below.
I'm Adriana, a passionate personal finance blogger &
web content writer
, helping people improve their website rankings and attract more visitors by creating high-quality, unique content.