Getting started is always a challenge when it comes to saving money. It's never too late though, and there is no rule to follow. You can start with few easy steps to explore how it works out and learn to better manage your finances.
But how to figure out the simple way that will help you save money and pursue your financial goals?
You might find a variety of articles stating how to handle your finances and would get baffled with which one to follow. We share with you a 7-step quick guide to money-saving habits that would help you develop a realistic savings plan.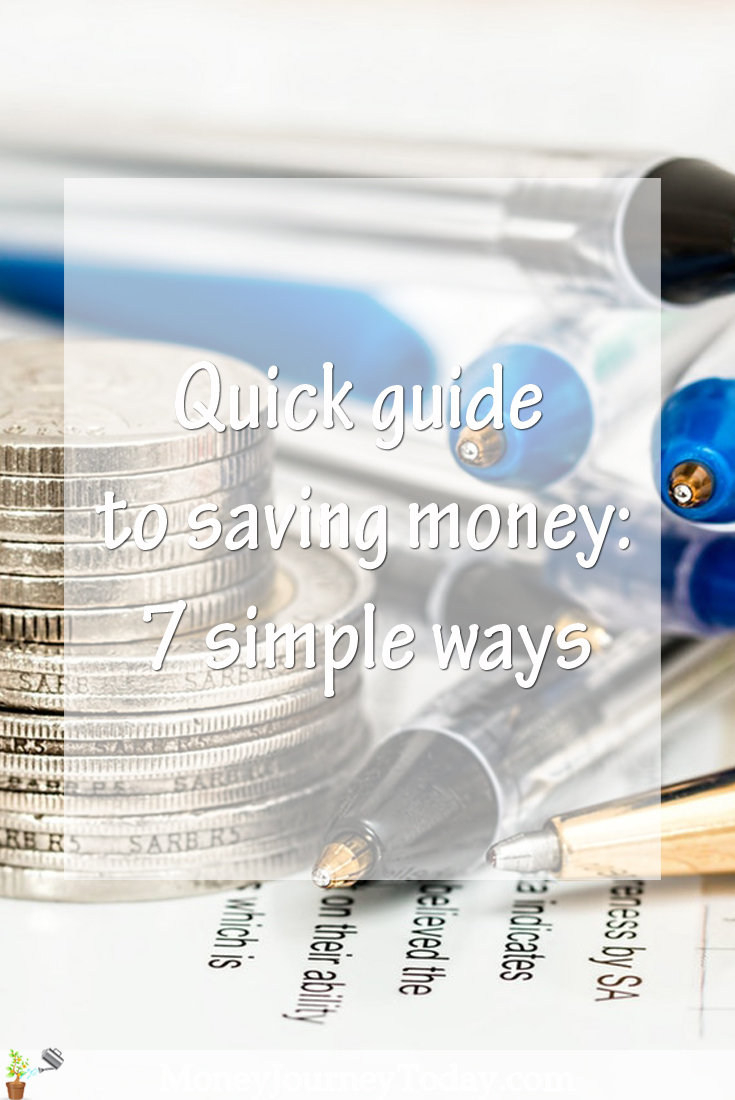 7- Step quick guide to saving money
7 steps for you to start with your savings plan and handle your finances in an efficient manner.
Step 1. Track your expenses and record them 
The first step is to save money is to know how much you spend.
Track all your expenses from the coffee you buy every morning, newspaper, lunch etc. You need to keep a track of every penny to spend.
Now that you have the raw data, categorize everything such as groceries, eat-outs, stationary etc.
You can even use your bank statements to match the data accurately. There are lots of apps for
tracking your expenses to make it easy for you.
Step 2. Have a budget
The next step is to organize the data into a workable budget.
This means you can outline the expenses to match to your income and see the grey areas where
you're over-spending.
Don't forget to add the expenses which occur often but notregularly such as car maintenance, house repair etc.
Step 3. The action plan
Once your budget is set it's time for the action plan that helps you to save money efficiently. Let's begin by separating 10-15% of your monthly income towards savings.
If you're expenses are so high that it feels impossible to save then it's high time you analyses your expense report and cut the unwanted expenses you do.
Step 4. Pick the right tools to save money
Saving money is easy but saving it the right way is more important.
Decide if you wish to save for either long-term or short-term. Depending on your choice you
can pick the right tools.
For short-term savings, you can pick from any of these FDIC-insured deposit accounts:
Bank money market savings account: Interest rate is variable & grows with
savings.
High-yield savings account: Interest rate is higher than normal savings
account
Certificate of deposit- Money locked at a fixed interest rate for a fixed
period
Then last option is your regular savings account
For long-term savings, try:
Tax-efficient savings account like FDIC-insured IRA
Invest in stocks, mutual funds, shares or equity.
Step 5. Have goals in mind to save for!
The best way to stock money soon is by having goals in mind to save for such as buy a home, a car or travel to dream destination, save for retirement etc.
Decide how much money you need to save for the goal. Then think of how much time it would take for you to reach it.
Finally, opt from the short or long term investment option to reach your goal even faster.
Step 6. Prioritize your goals
Now that you have set your goals, it's important to prioritize your goals to save accordingly.
Decide how you can save money to reach those goals and which one plays a vital role. Prioritizing your goals would open the gateway towards "where to save and how to save". Then start saving for those with highest priority first and then move to lower ones.
You can even save for 2 to 3 goals at the same time, if they are equally important.
Step 7. Opt for automatic saving
Sometimes you might forget to transfer money to your savings account and at the end of the month you would've spent it all. This happens with almost everyone.
So, it's better to opt for automatic savings option which is offered by almost every bank to transfer money between your checking and savings account. All you need to do is fix an amount, date and select the account for the automatic transfer.
It's easy and stops your temptation of spending your money as well. Also, you can watch your savings grow by checking the progress in your savings account.
Summing up
You can simplify the process of finance management by following the above mentioned steps for a financially secure future. Just remember that it's never too late to start especially as a beginner.
All you need to do is begin with few steps and see how it works out for you. These simple steps would inspire you to save money and reach your goals faster.