Is saving money getting on your nerves?
That can happen when you forget to have fun every once in a while. So, how about doing some frugal spending, and see how to enjoy a low-cost city break!
Being frugal and saving as much as possible shouldn't stop you from having a nice time every now and then.
Taking an unplanned vacation probably isn't wise, if you're on a budget or trying to meet certain financial goals.
But a city break could be the perfect getaway to recharge! And it's completely doable on a tight budget!
A few years back, my significant other and I didn't have the money, nor the knowledge to afford even a cheap getaway.  So our vacations meant sleeping in an eating in bed.
After a while though, anyone can get tired of always putting debt, bills & other expenses first, and fun last.
If you're inventive though, you can easily come up with a few ideas to enjoy a low-cost city break! Even with a strict budget.
How to enjoy a low-cost city break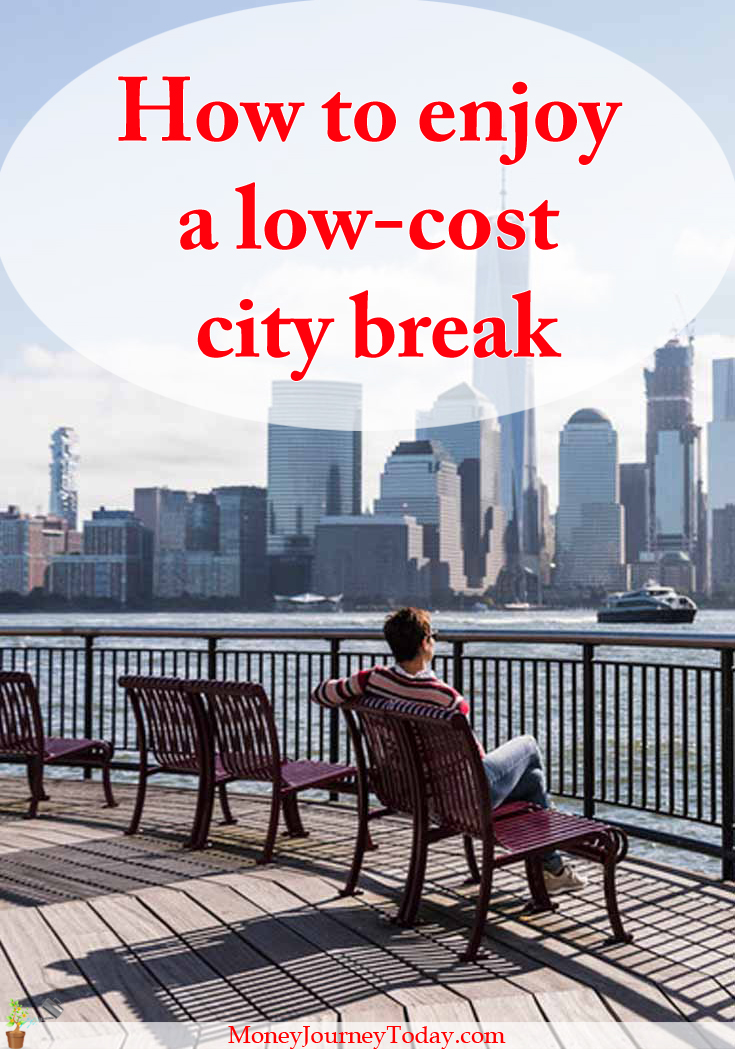 Choose a nearby location
Does a city break necessarily have to mean exiting the country?
How about just exiting the city?
The world is a beautiful place, surely there are plenty of nice spots you can enjoy that are close to you!
Maybe you have some nice beaches nearby. Or small, secluded villages.
Any location that's far enough from the noise and stress will do!
You don't need to spend a fortune to get away to the other side of the the world.
---
Opt for the cheapest transportation method
Usually, we prefer to drive to our favorite get away spots.
However, driving isn't always the cheapest choice of transportation.
Depending on the location, you might pay much less for train tickets.
Or take the bus, if possible. Why not save money on gas if you can find a cheaper option?
Keep an eye on flight tickets as well, there are plenty of flight companies that lower their prices from time to time. You could plan your city break around the time flight tickets are the cheapest!
---
Go on a one day trip
A city break doesn't necessarily mean going away for the whole weekend!
You can definitely enjoy some time away from home, even if you're only gone for one day.
Going away from morning 'till evening should be enough to relax for 1 whole day, without worrying about spending too much money on a room to sleep in!
Airline and railroad companies understand that as well. Some already have some great round-trip affordable offers for the same day!
---
Pack a lunch & snacks & drinks
Food. You gotta eat during your trip, right?
So, why spend money on meals when you can pack your own lunch?
When you're out and about in a location you're not familiar with, chances are you won't know where the best deals in town are, or where there's quality food to eat on a budget.
That can lead to overspending, especially in places where they charge you for sitting down alone!
Prepare your meals for the city break in advance.
Sandwiches are great! They're easy to prepare and nutritious.
Alternatively, you could prepare some easy meals that won't spoil if not refrigerated, and carry them around in your backpack.
Pack snacks as well and drinks! If you're on a budget, you probably don't need to spend a whole lot on water or a light snack.
---
Buy your tickets online, in advance
This is a money saving trick I've only noticed the past few years.
If you're planning to visit a museum, a zoo or maybe a landmark with an entrance fee, you should plan in advance and buy your tickets online!
Often times, buying them online is very advantageous!
They're cheaper. You skip the line. You might even be entitled to discounts or even freebies!
Last time we visited a small aquarium close by, we received $5 coupons each to pay for an entire meal at their restaurant! Granted, they would only serve certain foods, but it was still a great perk.
---
Scan for free events
If you want to save even more on your next city break, scan social media for free events in nearby locations.
There should be plenty of free concerts, free gallery openings, free street art festivals you could attend and get away from your daily routine for 1 whole day.
---
Invest in your own get-away gear
Do you enjoy regular skiing getaways? Or maybe you prefer to hit the beach every now and then.
In any case, you should definitely invest in your own gear and save money in the long run!
Renting equipment that's not yours can get pretty expensive if you plan on repeating the city break experience.
Invest in some gear that you could use again and again, as many times as you need!
Stick to the bare minimum when buying your own get-away gear.
There's no need to spend a fortune on many items.
You'd also have to be able to carry everything around each time you plan a short trip!
---
A city break doesn't have to get expensive.
Enjoying some well deserved fun every now and then can be done on a budget, with little effort!
What's the last getaway you went on?
Did you manage to stick to your budget? 
The following two tabs change content below.
I'm Adriana, a passionate personal finance blogger &
web content writer
, helping people improve their website rankings and attract more visitors by creating high-quality, unique content.