Can you really enjoy a no spend summer weekend?
Can you actually let a whole weekend go by without spending a dime?
Many who have adopted a frugal lifestyle and embraced minimalism are actually enjoying no spend weekends on a regular basis.
So yes, no spend week end days are not a total mystery. In fact, having a couple of 'vacation' days without spending as much as a buck is becoming more and more popular among those who're looking to spend less and save more money.
Truth be told, not spending money on weekends can be quite a challenge. Especially during warm and hot months!
When the strong urge to go outside and enjoy a sunny day is acting up, how can you avoid spending any money?
Here's a list of 13 things you can do on a no spend summer weekend.
Best 13 ways to enjoy
a no spend summer weekend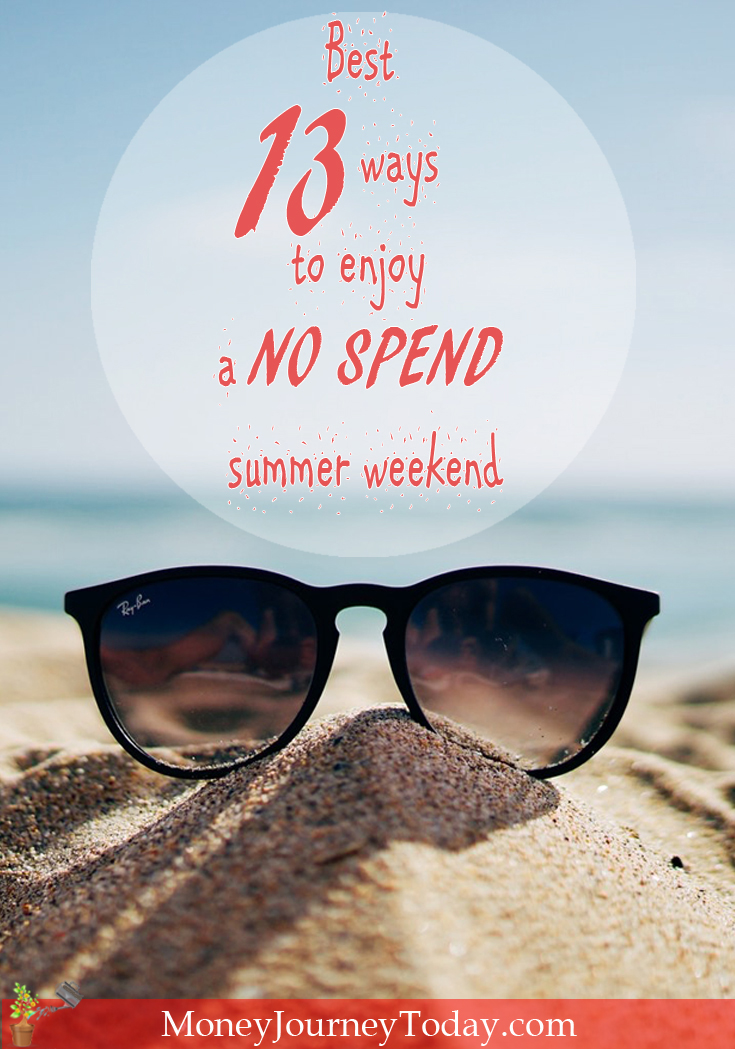 ---
Go to the beach
---
Assuming you have enough gas in your tank or the beach is close by (as close as a bicycle ride or walking distance), a trip to the beach can actually be done for free!
I'm always up for a frugal beach weekend!
We usually leave in the morning and come home in the evening, so we don't have to pay for a room. The beach is close by, so it's convenient.
Packing your own picnic-lunch and water / soda is an incredible money saver!
The local pool might be close by, but you'd have to pay the entrance fee, rent your beach chair and splash around in a crowded pool. Driving some miles, in this case, is both convenient and frugal!
---
Enjoy a picnic at the park
---
If you have big, spacious parks nearby, you could brown bag your lunch and take the whole family on a picnic. Or go with friends. Or just take your girlfriend and enjoy a romantic, yet no spend weekend together.
Some parks have wide BBQ spaces, so you could pack your grill and polish your barbecue skills.
Packing a soccer ball will keep kids busy all afternoon. Adults too, come to think of it! Alternatively, you could pack your badminton set. Or dust off your photo camera and enjoy a quiet afternoon taking photos.
---
Read a book
---
Summer is indeed a time to get out of the house, but every once in a while yo can have a stay-at-home weekend and enjoy some quiet time. Reading.
During the week, things can get hectic. You have a job or business to concentrate on, children need your undivided attention, cooking & cleaning take up time, grocery shopping as well, etc., etc.
By the time you're done with everything and are finally snuggling in your sheets, you're probably too tired to read more than 3 pages.
Weekends, on the other hand, were invented so you can (finally) relax.
---
Discover someplace new
---
This is one of my all time favorite summer activities! And it's often a no spend weekend activity, too!
Summer is the best time to explore places you haven't been to before. And if you love travelling (even if the destination is nearby), you're gonna love this!
Before the weekend comes (or Saturday morning), I often browse around Google Maps or "spy" on my friends who tag themselves in various locations I've never heard of before.. As it happens, I often find hidden 'travel gems' that are actually close by!
On a no spend weekend, you can simply pack your lunch, grab some water and go explore someplace new!
So far, we've discovered few amazing waterfalls we haven't heard of before, few small charming villages close by and various walking and cycling trails.
It's fun and it's free! Perfect!
---
Volunteer
---
Are you looking to do something meaningful on a no spend weekend? Try volunteering!
A great way to spend your Saturday or Sunday (or both!).
Surely there are plenty of volunteering projects or organizations that could use your help.
Volunteering is a purposeful no spend activity that can actually benefit you in many ways.
You can meet amazing people and make new friends. You can learn a new skill. Or you can learn valuable life lessons from those less fortunate, and that is priceless.
---
Cook in bulk
---
This may not sound like much fun, but cooking in bulk during weekends can actually free up a lot of your time for the following week!
It's a no spend weekend activity (you've done your grocery shopping already, right?) and it's a very practical way to save both money and time!
Cook your meals for the following week (or most of them), refrigerate or freeze them and – voilà – you've just freed yourself so many hours for the upcoming week!
---
Catch up old friends
---
Give old friends a call.  Invite them over and host a game night. Or have a movie marathon.
It's a great way to enjoy a no spend weekend!
You could ask each of your friends to bring something (someone brings popcorn, someone else brings wine, you prepare the snacks, etc.) and you can all enjoy a frugal weekend together.
---
Visit a free museum / gallery
---
Are there any museums or galleries or other places you can visit that offer a free-entrance-weekend?
In our area, certain museums waive their fees every first Sunday of every month. It's a nice initiative that aims to promote art, artists and culture in general.
If you're interested in visiting a museum or gallery for free, see if your local community has a similar initiative and 'take advantage'.
---
Spend the weekend in bed with your partner
---
What? We're all adults here.
It actually took me almost a quarter of a century to understand why as a child, every once in a while I just 'had' to go spend an entire weekend at my grandma's. I used to think it was because she missed me!
Turns out, you can do a lot of fun stuff on a no spend weekend. Including not getting out of bed.
---
Practice a (new) sport
---
If you're an avid sports lover, summer is the best time to try out something new!
Surely there must be a community sports field nearby! Pay the place a visit and see what sports people are practicing in your area.
Soccer, tennis, basketball.. there are many sports you can either try out for the first time or attempt to join the local team.
One of my best friends recently joined the local rugby team. He's not a teenager anymore, but over 40. Just to give you an example of how you can do anything, whether you're a young adult or not.
---
Start a blog or another online project
---
Needless to say this is how I personally spend most of my weekends.
If I'm not enjoying a no spend summer weekend, you'll always find me online.
Without doubt, most of you who have a blog or forum or any other online project are using your free time to work on your 'deal'.
What better way to have a no spend weekend than to use the free time to your advantage?
You could start your own blog or forum and have fun with it! Maybe even earn a nice side income. Turn a no spend weekend into a profitable weekend!
---
Start a side hustle
---
Speaking of making a profit, weekends are great to start working on a side hustle!
If you're having a hard time saving money or paying off debt, an income boost is exactly what you need!
You could start an online side hustle, such as start a blog or a small online shop or anything that might interest you and think you can handle it.
Alternatively, offline side hustles are also quite profitable!
You can start a cake business or even make money making preserves. If you love shopping, you could become a mystery shopper or make money as a personal one.
Starting a side hustle to make money only depends on your imagination and skills. And you can do your research or even start making money during weekends, when you have enough free time!
---
Get things done
---
How many times have you told yourself "I'll get to this when I have more time", but then didn't follow through?
Use a no spend weekend to your advantage and take care of your 'to do' list!
During the week, or whenever you remember there's something you want done but can't handle it right now, take a note. I usually just take out my phone and write these things in my Memo app.
On weekends, start getting things done!
What's on your list? Paint the kids' room? Repair a leaky tap? Do you have a pile of clothes you need to sew buttons on but never get to it? Do it on a no spend weekend!
Are there any other practical no spend weekend activities I left out?
How do you usually spend yours?
The following two tabs change content below.
I'm Adriana, a passionate personal finance blogger &
web content writer
, helping people improve their website rankings and attract more visitors by creating high-quality, unique content.