Love, love, love. Love is all you need, as the Beatles used to sing.
When wedding bells start to ring though, it's usually time to fork up a whole lot of money!
Weddings are expensive and that's not a secret.
Money problems and debt shouldn't be a way to start a marriage though, especially since it is possible to save big on your wedding!
All you need to do is find small ways to compromise and don't let yourselves get carried away by all the glowey-dovey weddings portrayed in bridal magazines or romantic movies.
Brilliant ways to save money on your wedding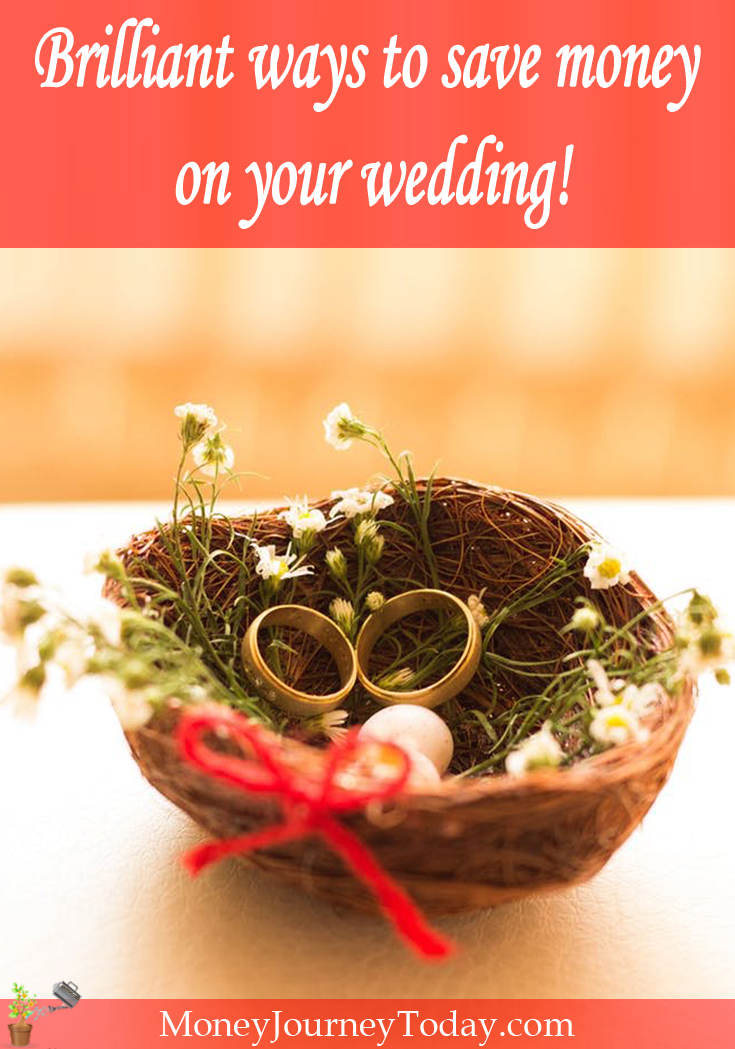 ---
Schedule your wedding outside the wedding peak season
---
Celebrating your first day as husband and wife should be just as special if you get married outside the wedding peak season.
Unless the date you pick isn't especially tied to the most popular wedding season months (from June 'till fall), you can shave off quite a chunk of your total costs!
Avoiding Saturdays is also something to consider. Saturdays are very popular days to get married. You can save at least a few thousands if you simply pick a different day. Any other day, you have 6 other wonderful weekdays to choose from!
Since there is less demand outside peak-season, you have the opportunity to negotiate a better price!
Not only that, but you'd leave for your honey moon off season! This means overall lower prices for your romantic trip! It's a win-win situation!
---
Plan your wedding sooner rather than later…
---
Set a date to plan your wedding sooner rather than later.
Giving yourself too much time until the big event might tempt you to spend more than you actually need to make this day special.
By giving yourself just enough time to organize everything in a timely manner, you can focus on the important details and avoid spending a fortune on unnecessary wedding nonesense.
---
… or later rather than sooner!
---
It may sound like contradictory advice, but having a longer engagement might help you get the best deals possible.
Off season wedding sales are a great way to save. Slowly taking advantage of discount after discount can save you big money on your wedding!
It also gives enough time to book the right wedding venue for you. You have time to research and book your favorite with plenty of time in advance.
---
Wedding venue
---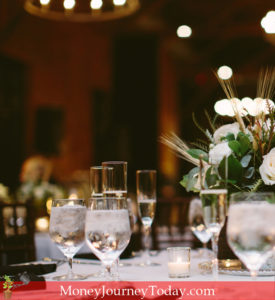 Speaking of locations, picking one that's least popular for hosting wedding event might save you quite a lot!
Locations especially designed to host weddings are usually more expensive. After all, who would skimp on their own wedding, right?
The 'problem' with such locations is they usually require you to use their services (bartender, catering, etc.).
While this doesn't sound like such a bad thing (you need to take care of your guests, after all!), this is usually what drives their prices to unimaginable limits.
However, you can have a reception just as lovely (or one even more special) if you opt for a less traditional wedding location. For less money!
You might need to find a solution for services like catering, music and so on, but the money saved could be well worth it!
Opting for a restaurant for the reception might be a great idea. They already have staff, cutlery and a way to provide ambiance music.
Now all you have to stress about if finding a good photographer!
---
Invitations
---
Once you have your final wedding guest list, it's time to let everyone know you're getting married!
Invitations can be quite a costly investment though.
There are ways to save money though, so don't worry about it.
You could try to design them yourself. You don't need to be a Photoshop guru or related to Van Gogh to design pretty wedding invitations!
Add your own personal touch, print them out and send them to your guests.
Alternatively – and more modern and daring – you could send invitations by email!
Best part of using e-mail: it's free! Second best part – although not the most original way to send out a wedding invitation, you can at least be sure the recipient got it!
Who knows how many disgruntled relatives stopped talking to newlyweds because their invite got lost in the mail..
---
Wedding dresses & groom suits
---
Lets't be honest for a second: how many of you are willing to get married in your great-grandma's wedding dress, passed from generation to generation, kept in the closet for years on end and… knowing what happened to it for 3 wedding nights in a row?
However, I doubt many are happy about spending thousands on a dress or groom suit they're only going to wear once!
Even if this is your second wedding, it's probably 'bad luck' to wear the same clothes your ex ripped off you as soon as you were alone!
Luckily, there are plenty of ways to spend less on your wedding dress & suit!
Designer discounts or sample sales are a great way to score a great deal!
As an alternative, you could consider wearing nice, elegant clothes that aren't exactly traditional wedding outfits.
A white, beautiful outfit doesn't have to be labeled as a 'wedding dress' for you to say "yes"!
Same goes for the groom. You can avoid spending a fortune on a tuxedo and just buy a nice suit! Opting for one that's suitable for future events might even be a great bargain!
---
Food & drinks
---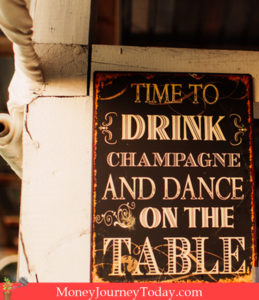 Food and drinks shouldn't be the focus of the day! So you can avoid spending a fortune on a fancy menu.
You can serve simple foods to take care of your guests, they're usually much cheaper.
Opt for serving lunch instead of dinner, that's another great way to save.
You can even avoid serving dinner altogether and just have a cocktail reception (although this might upset relatives & friends who traveled a long way to see you two get married).
Alcohol is also among a wedding's biggest expenses. But you can't really have a wedding without it!
To cut costs, you could skip on liquors altogether and serve good wine and beer. Liquors are more costly and if someone should exceed their limit, you may end up with less great memories from your wedding!
Or go the 'signature drink' route. You could create your own signature drink, as a new married couple, and serve it to your guests. It's special, it's unique and it's way cheaper than offering endless alcoholic drink options to all your guests!
---
Wedding decorations
---
Often times, paying for 'traditional' wedding decorations can leave a sad hole in your budget.
Not to mention nobody really cares about them as much as most wedding planners hope you'd think!
To save money, you try arranging the decorations yourself or ask some close friends to help you out. Some flowers and balloons will do the trick. Seasonal flowers are much cheaper than traditional wedding centerpieces, so you can save a bundle if you're looking to brighten up the place for less money.
Or skip decorations altogether! Your guests are there to celebrate your first day as a married couple! The attention should be focused on you, not the decor.
---
Wedding cake
---
Aside from the bride and groom, the wedding cake is probably the n°1 attraction of the day!
To save money, many opt for no wedding cake at all. If you're OK with the idea, go for it!
Wedding cakes are incredibly expensive, and you only get to eat a slice, if you're lucky!
If you're like me and would rather choose a cake over a honeymoon, then find a less expensive solution.
You can either order a small wedding cake to save money, or order 5 or 8 (depending on the number of guests) small "regular" bakery cakes and serve them as wedding dessert!
Way to have you cake and eat it too!
---
Save money on wedding favors
---
Skipping on favors altogether isn't very nice, especially if your elderly relatives came all the way from far, far away!
Wedding favors are an age old tradition, but you can actually save money on wedding favors as well!
You can buy items in bulk and individually wrap them as favors. If you find a great deal on items your guests could find useful, you've hit the jackpot! This way they won't feel compelled to take the dusty object and place it strategically for you to see each time you visit!
Alternatively, you can make or bake your own favors. Pinterest is full of practical ideas of DIY arts and crafts, and if you're going the edible route, you can definitely find a myriad recipes to choose from!
Are there any other great ways to save money on a wedding you can think of?
The following two tabs change content below.
I'm Adriana, a passionate personal finance blogger &
web content writer
, helping people improve their website rankings and attract more visitors by creating high-quality, unique content.