Saving money should be a priority if you have important plans for your future. Often times though, we struggle with certain money saving tips that don't work!
Money saving advice is accessible for everyone, it's one of the best advantages of living in the era of information. However, getting carried away with tips & tricks can sometimes lead to more damage than savings.
It's not uncommon to "fall victim" to one of these 5 money saving "tips" that don't work. 
There are many more money saving traps that aren't easy to notice. These 5 though are the ones I find most obvious.
5 money saving "tips" that don't work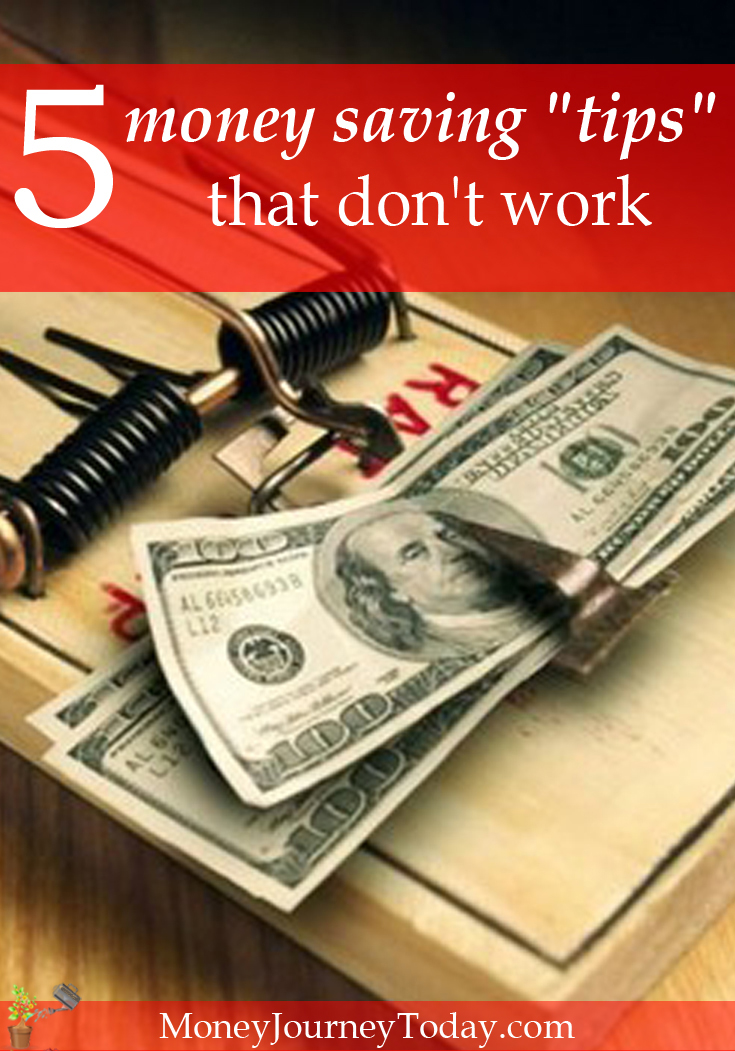 Buying items in installments
---
Often times, we're tempted to buy large purchases in installments.
Washing machines, furniture, kitchen appliances sometimes cost an arm and a leg.
Paying a big lump sum once might seem like a financial trauma for your budget. So sellers often push their installment system to "help" consumers out, especially those who don't have a credit card or want to use one to make a large purchase.
However, paying for an item in installments could turn out to be more expensive than making one big fat payment.
Interest feels, late payment penalties, forgetting to actually make a payment one month can lead to serious money consequences.
Instead of saving money, you could end up losing them in the long run.
Related article: Consequences of a bad credit history
Using all available coupons
---
Using coupons to buy items at a discounted price is awesome!
Food, clothing, everything can be bought at a smaller price if you know how to take advantage of couponing.
However, trying to use all your available coupons might not be a good idea.
Just think about it for a second: if you didn't have that coupon for a 30% discount on shoes, would you have bought them anyway?
In the end, going to great lengths to use all your coupons might be a reason for you to become broke, instead of saving on your purchases.
Personally, I either ask around if anyone might need my coupon or just throw them away if I know I don't actually need the discounted item.
Related article: 5 extremely cheapskate things I wouldn't do to save money
Shopping at multiple stores to take advantage of discounts
---
Speaking on not saving on purchases, shopping at multiple stores just to take advantage of their discounts is often a reason for you to actually spend more money than save!
Seeing something on sale here, something on sale there doesn't mean you should drive around the whole day to buy these items where they cost less.
Time is money. And if that's not enough, gas is money.
Related article: 10 money saving tips to grocery shop smart
Relying on discount magazines
---
Discount magazines can either be your best friend or your worst budget enemy.
I often find discount mags in our mailbox. They're great to remind me of stores I haven't been to in a while or help me create a grocery shopping list based on items that are on sale over the next few days.
However, relying on discount magazines only to purchase items you need often leads to spending more.
Being reminded to buy certain items is great! But don't rely on the ads alone.
See if you can find the same item at a lower price, by buying generic or by shopping around either in the same store or similar locations.
Related article: 10 examples of poor financial money management
Budgeting too strict
---
Saving the best for last: a budget too strict usually backfires.
Budgeting is great! It helps keep track of your finances and helps you manage your money effectively.
However, budgeting too strict leads to many frustrations.
Maybe you see a nice shirt but your budget says you can't afford. it. Maybe you're in the mood to eat out, but your budget says you cant afford it.
It's not just teenagers who rebel, adults do it too.
Not being able to afford anything, ever, can get on your nerves.
Instead of saving, the risk here is you'll end up spending too much one day, to compensate for all the times you had to say 'no' to yourself.
Related article: Learn how to budget money in 5 easy steps
These are my top 5 money saving traps I try to avoid at all costs (pun intended).
Do you know of any other money saving "tips" that don't work?
How do you manage to avoid them?
The following two tabs change content below.
I'm Adriana, a passionate personal finance blogger &
web content writer
, helping people improve their website rankings and attract more visitors by creating high-quality, unique content.