Credit penetration has always been an important indication of a country's economic progress.
Most developed countries boast of a credit market that is evolved, allowing citizens to get swift and easy access to credit to purchase a variety of goods, commodities and services. As a matter of fact, an increased credit penetration assists growth prospects through increased demand for services and goods, thereby correspondingly increasing supply and contributing to economic growth.
The credit market has grown significantly over the last few years, with lenders offering customized private loans to salaried and self-employed individuals. There are several lenders in the "private finance loan" space, each offering their own product at an affordable rate of interest.
Among the many lenders that include banks and financial institutions, "Fintechs" are one (and now the most popular of course!). These Fintechs have scripted their own success story, and have gone one to seize a major chunk of the credit market.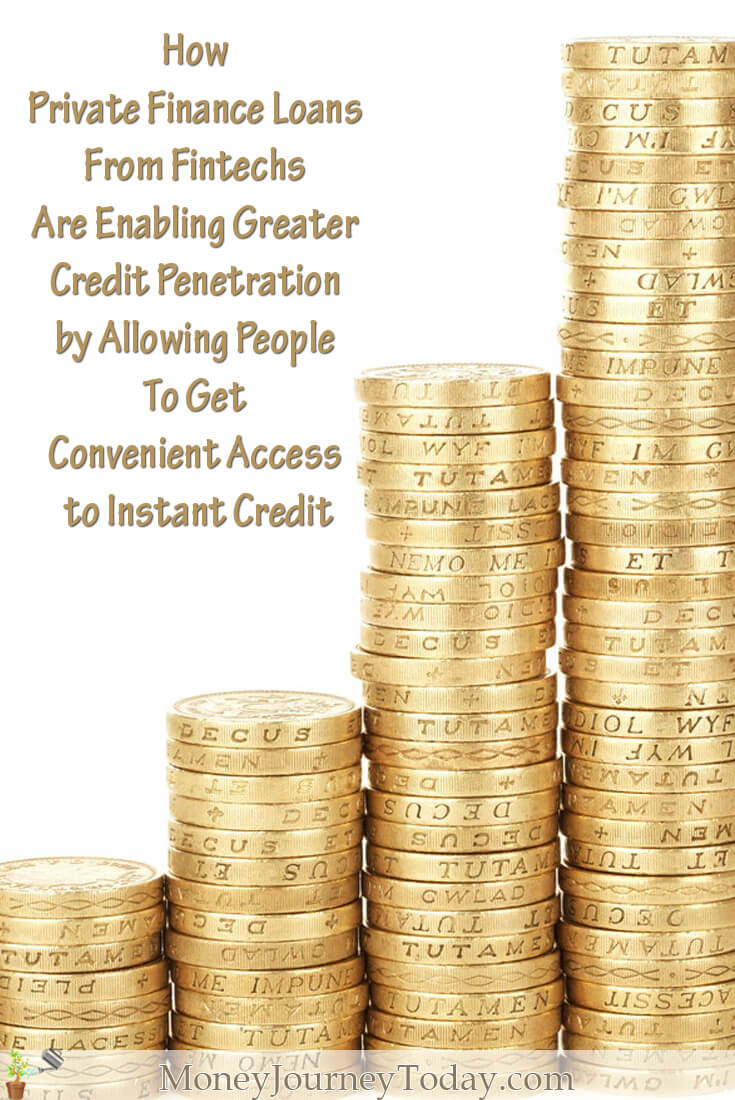 The idea of Fintechs and their role in the credit space
Fintechs, short for financial technology companies, offer unsecured credit to salaried (and self-employed – in some cases) individuals. Earlier, people used to prefer banks for their credit needs as banks were perhaps the only players in a market that didn't have the taste of too much competition.
As time progressed, ideas evolved and companies offering easy and affordable borrowing options to individuals, emerged.
A personal loan from a bank took over 7 days to reach a beneficiary's bank account even until a couple of years ago. Personal loans don't take that long to reach a beneficiary account anymore. Yes, applying for credit from a bank will still take you a week or more to receive the amount; but it won't take more than just 2 days if you apply for the same personal loan (same amount) from a Fintech company.
Most Fintechs offer credit in less than 48 hours and have seamless user interfaces to enable convenience and ease in applying for unsecured credit.
This characteristic of lightning quick disbursals among others that include easy eligibility and affordable interest rates have made Fintechs the primary choice for credit in a budding credit market.  
Choosing private finance loans – How do some companies stand out?
We've already mentioned earlier about the presence of multiple lenders active in the market – the competition is of course, strict and merciless. But when you want to borrow money, choosing the right lender for your credit needs is crucial!
Here is what makes some companies stand out among the vast majority of private lenders in the "private finance loan" space:
Companies that offer credit for low income individuals
Lending institutions have their own eligibility parameters that need to be met in terms of income, credit score, etc. As far as income is concerned, most lenders only offer finance options to individuals drawing a net monthly income. 
Find out which lending companies offer private finance loans to individuals with a net monthly income in your range and apply for a loan when you find the right lender.
Instant credit to individuals with low credit scores
You don't necessarily need to have a high credit score to apply for personal finance from some lenders. Salaried individuals should find out the minimum credit score required to apply for a personal loan and apply for a loan from a lender that accepts clients with a low credit score.
Flexible tenures and a wide range of amounts
Choosing the right lender mean that you can choose tenures ranging from 6 months to 60 months, and choose from amounts ranging from very small amounts to bigger loans.
If you are looking for smart private personal loan choices, take to time to look for the most fitting company and only apply for a loan when you find a lender that suits your needs.