Oh no! Did you plan new financial resolutions again but forgot about the most romantic day of the year?
That's OK, celebrating Valentine's day on a budget is not that difficult.
Of course, love should be celebrated every single day, but this particular Holiday makes it all the more special!
While for some, Valentine's Day is just a regular day of the week, other couples enjoy preparing a nice surprise for their loved one.
Whether you want to impress your spouse, your new special someone or your secret crush, you're gonna have to come up with a romantic plan today.
You don't need to spend a fortune on jewelry and overpriced chocolate boxes to show your loved one you care. But you can't show up with a macaroni necklace either!
Valentine's Day is no reason to panic and max out your credit card. Here are some great tips & tricks to make Valentine's Day special, on a budget!
Surprisingly frugal ways to be romantic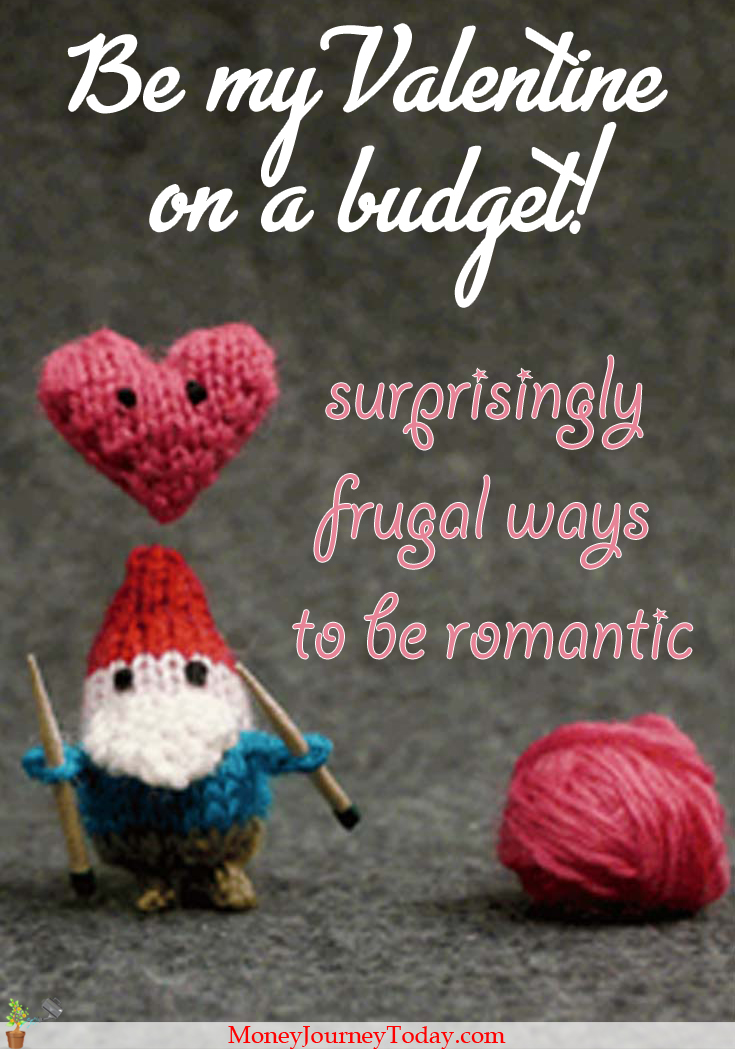 Cook a romantic dinner at home
This may sound cheesy, but it's a huge money saver!
Skip the expensive restaurant and just enjoy each other's company, at home.
You'll probably still need to do some shopping, but grocery shopping is much cheaper than paying for dinner at a restaurant.
And if you don't know how to cook, just grab a couple of frozen meals you know you'd both enjoy or just order in.
You'll be in the comfort of your own home, enjoying a nice meal with your significant other, without the stress of how much can you afford to spend on a good wine or tip the waiter.
---
DIY romantic gift ideas
Exchanging gifts is probably a must if you're celebrating today.
However, instead of buying expensive stuff, you can make something yourself.
You could take an empty jar, fill it with chocolates and bonbons and design a cute label with something romantic written on it.
Or, create your own candy kabobs: "stab" some soft candy or marshmallows on skewers, wrap them up in cellophane bags and seal with a nice ribbon.
If you're talented at handcrafts you can probably come up with even better ideas.
Frugal DIY gifts can be an amazing surprises, since they're especially designed to be unique!
---
Leave romantic surprises around the house
If you're living together, Valentine's Day on a budget might be easier to celebrate that you thought!
Instead of spending a fortune on gifts and "stuff", you can show you love by leaving romantic surprises around the house, for your loved one to find.
For instance, buy a pack of red or pink post-its. Write something sweet on some of them and place them around your home for your loved one to find "accidentally". Stick them to your bathroom mirror, on the coffee maker, inside the cupboard for your partner to find when they reach for the sugar or cereals!
Be creative!
Leave a love letter somewhere they would look.
Decorate your bathtub with flower petals and candles.
Record a romantic message and post it on Facebook and set the audience only for your loved one to see.
You're only limited by your imagination here, such small gestures don't cost a cent, yet they will make your partner smile and feel special.
---
Decide on a spending limit together
This may not sound very romantic, but for couples who have been together a while it shouldn't be a big deal.
Besides, it might even be a lot of fun!
You could simply decide on a budget limit to spend on Valentine's.
Say you decide on a $20 spending limit. You'd each have to come up with a gift idea that'll only cost $10!
Or, together you'd both have to come up with a special meal plan within your budget.
Then you'd take your $20 and find the ingredients together.
This can turn out to be a fun activity, while you also spend quality time with your partner.
---
Go out on a budget
Not a fan of cooking at home or cooking up innovative ideas to spend close to nothing on Valentine's?
Not a problem!
You can still find frugal ways to go on a romantic date!
Going out doesn't necessarily mean dinner and a movie. You could save lots of money if you get creative.
How about a walk along the very places you first went to when you started dating? Trips down memory lane never fail to help build stronger relationships!
Maybe you could catch happy hour later this afternoon.
Take your loved one out for a few (cheaper than usual) drinks and munch on the free appetizers.
Or, if you still can't shake the romantic dinner at a restaurant idea out of your system, share a meal! It's incredibly romantic and… cheaper.
---
See? There are plenty of ways to celebrate lover's day on a budget.
If you put your mind to it, you really can be both romantic and frugal at the same time.
The following two tabs change content below.
I'm Adriana, a passionate personal finance blogger &
web content writer
, helping people improve their website rankings and attract more visitors by creating high-quality, unique content.