If you could have a talk with your younger self, would you tell that person to stop keeping up with the Joneses already?
Many years ago, social status seemed to be the n°1 value many families lived by.
Since not everyone was born wealthy, keeping up with the Joneses seemed to be very popular way for others to feel superior.
It's unpleasant to hear it, but it's the harsh truth!
Keeping up with others is, aside from an unoriginal bad idea, a make-believe way to feel more important, financially speaking.
Problem is, in reality you'll only end up in trouble. Financially speaking!
While it may seem the grass is always greener on the other side, the truth is the Joneses (or whatever their name is) are probably in serious debt!
How else could they afford to live in luxury and insist on bragging about it?
Rich people usually know how to stay that way.
Those who need to make a big deal out of their lavish vacations or latest SUV they bought are probably overcompensating for something.
Like the lack of truly being financially independent.
[ctt template="2″ link="aq19Z" via="yes" ]Stop a second and think: is your #happiness really defined by someone else's #financial status? [/ctt]
Stop keeping up with the Joneses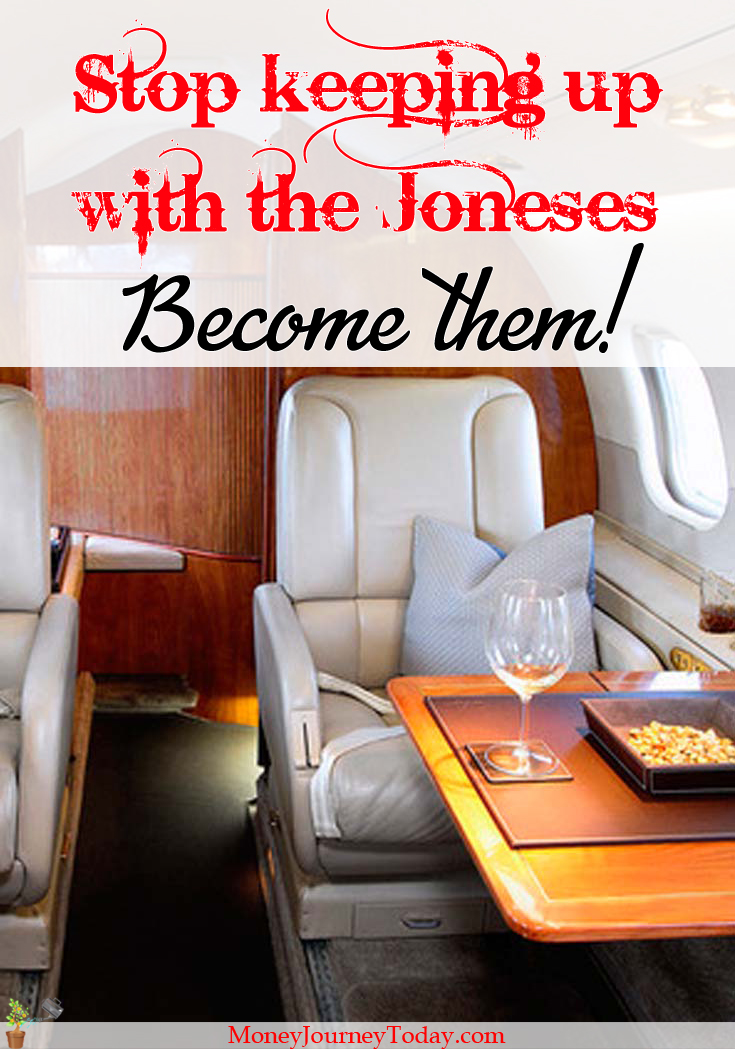 The problem with keeping up with the Joneses is mostly psychological
---
We live in a world where consumerism is promoted to the highest levels.
Everywhere you look, it seems that if you don't buy, buy, buy, you're going to end up sad and empty inside.
The problem is, the more you buy, the emptier you feel.
Just like your wallet!
Keeping up with others on a financial level isn't smart at all.
Take a step back and think about why you feel you need to keep up appearances at such a fast pace.
A difficult childhood is often a reason to overcompensate as an adult.
Problems at your job could also cause a need to have what 'those happy Joneses' have.
There are countless reasons as to why someone needs to spend unnecessary money just to look successful to others.
And getting approved for a loan so fast nowadays makes it even easier to overspend!
Who cares if your neighbors just bought a luxurious second car?
---
When we both had jobs we needed to drive to, we compromised and managed to stay away from buying a second vehicle.
We didn't really need it.
Living in a small apartment seems like a compromise as well, when compared to others who live in a spacious environment.
However, it's unbelievable how much you can spend on heat and electricity just for the sake of having a big home.
Us?
We spend about 3 times less during winter (true fact!)
Latest iPhone?
Expensive shoes?
What else are you wasting money on just to show others you have money too?
Getting into debt to keep up appearances is bad financial money management
---
The need to keep up with others could lead to some serious financial trouble.
Turning an unhealthy obsession into years of debt will definitely not make you happy.
It's definitely bad financial money management!
We don't really need 2 cars, but maybe you do.
Don't go buying the most expensive one you find though, stick to your budget and avoid debt problems!
We downsized a few years ago, but others need a bigger living space.
However, paying extra just to show off with your new apartment – not cool!
Just mind your own business and stick to what you can afford.
Overspending might make you happy for a little while, but in the long run it's really not worth it.
Become the Joneses
Darwin says we come from monkeys, but stop trying to imitate others!
Focus on your own financially independence.
Instead of trying to keep up with others, why not set financial goals for yourself?
Save for retirement, invest your money, adopt a minimalist lifestyle and be thankful for living a debt free life!
The Joneses paid for their happiness with cash and probably don't own much of the stuff they flaunt.
Show them how great it is to be debt free and make them want to imitate you.
By becoming a positive example to others, you not only avoid years of painful debt, but you also pay it forward, so to speak.
Stop trying to keep up with the Joneses.
Become the person others will want to follow by example!
The following two tabs change content below.
I'm Adriana, a passionate personal finance blogger &
web content writer
, helping people improve their website rankings and attract more visitors by creating high-quality, unique content.