The 'traditional' way to invest money usually involves stocks, bonds, mutual funds and the likes.
Other ways to invest, less conventional, involve collectibles.
But if they represent an infrequent way to invest, how risky are collectible investments?
Every once in a while, we all hear about some toy our generation played with 20 years ago that just sold for thousands or even more!
Or how some vintage movie poster you ripped to pieces and threw away because you 'grew up' sold for hundreds at an auction!
When hearing how much old stuff is worth, many can't help but wonder if the junk stuck in the attic isn't their golden ticket to a wonderful retirement.
While in some cases, "old junk" might now be worth a fortune, other times a presumed treasure is nothing more than useless clutter.
Collectibles as an investment certainly represent an interesting market.
Aside from their emotional value, they might be worth more than a winning lottery ticket!
However, just like any other investment types, the risk factor is literally staring you in the face.
How risky are collectible investments?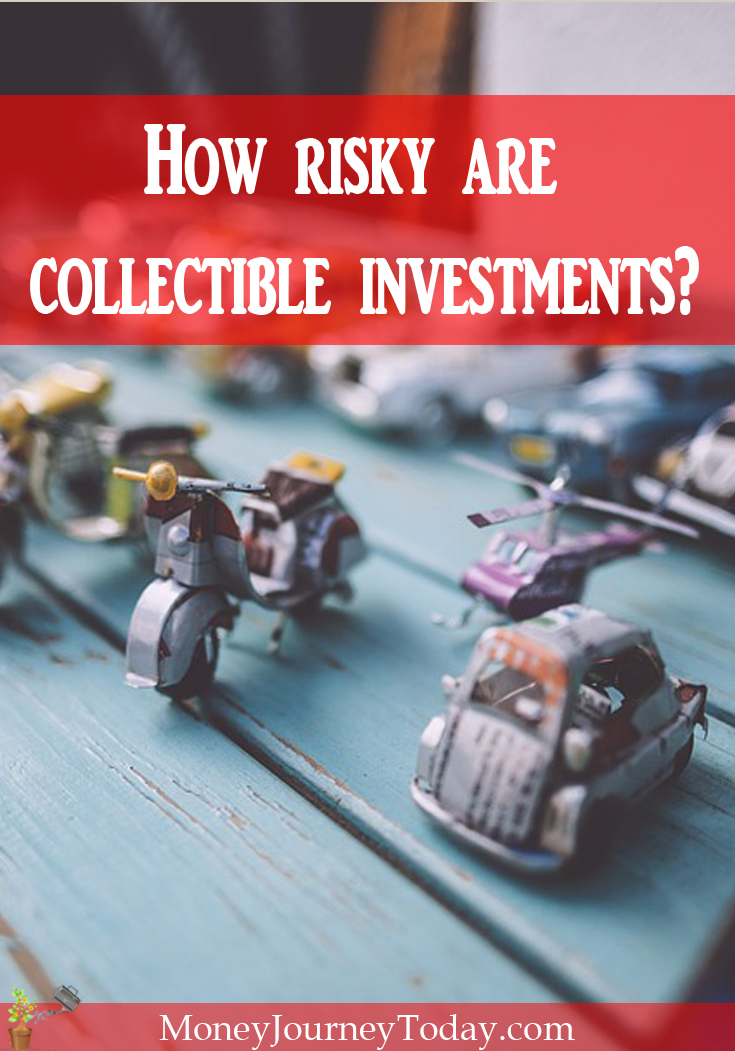 ---
Shortage of information
---
Information on certain collectibles can be difficult to find.
Investing in collectibles isn't like your traditional stocks & bonds. In some cases, you'd have to dig deep to find out if your vintage toys or old furniture are actually worth something.
Unless you're really passionate about your collection or the one you're about to buy, you could risk getting stiffed.
---
Risk of counterfeit
---
Say you have a collection of baseball cards, but you're missing a couple items to complete it.
You decide to buy your missing pieces of the puzzle and find them online for a reasonable price (or a high price, but who cares, if you sell the entire collection, it won't matter).
You click purchase and – uh-oh! – a counterfeit collectible is delivered to your door.
These things happen, especially on the collectible market.
Make sure you know your stuff and buy only from people who have a top notch selling reputation.
---
Difficulty selling
---
If your collectibles have value, the first instinct should be pondering a plan to get the most revenue when selling.
Listing your collectibles for sale shouldn't pose much headache. You snap a few good pictures to show their condition and wait for a buyer to contact you.
To someone, an old doll might be just an old doll. To someone else, that dusty piece of plastic might be worth a fortune!
However, selling your collectibles might be a risky task.
You might find people interested in buying, but aren't willing to pay the price you're asking for.
Alternatively, you might not find buyers at all and could get stuck with your collectibles until they depreciate in value.
---
Maintenance can be a drag
---
Some items require special care, if you want them kept in mint condition.
Paintings, for instance, require storage in dry places. To avoid damaging it, you should have it wrapped. But be careful! Bubble wrap can prone it to moisture!
Maintenance is important if you're looking at collectibles as as investment.
You should either be very passionate about your items (so you'll know how to handle them) or you should pay a professional to help and give you some tips on do's and don'ts.
Maintenance can be risky, if you don't know what you're doing!
---
Difficulty comparing prices
---
Selling your collectible is the only way to earn revenue from it. Holding on to it won't help.
However, figuring out the right price to ask for it can be a challenging task.
Some collectibles have catalogs you can consult and figure out a possible price range for your item. Depending on its condition, you should know more or less what it sells for.
However, this isn't the case with all collectibles.
If you're not already familiar with your vintage items, you risk one of 2 things: either ask too little and lose money, or ask too much and never sell it.
Although this type of investment does come with risks, in some cases the ROI can actually be worth your trouble!
You could find an old Game Boy at a garage sale an buy it for few pennies. The same Game Boy could sell a while later for a few hundred bucks!
People buy collectibles for a variety of reasons.
Some are looking to invest in or complete a vintage collection they plan to sell later. Others are simply nostalgic and willing to pay the price to rekindle old memories.
Either way, they don't call it investment of passion for nothing!
Collectible investments can be a good alternative to investing in stocks. Especially if you already own some! The market, however, is really unpredictable.
The important thing to remember is to invest in collectibles you have a knack for. If you're passionate about comic books, don't go around investing in coins you know nothing about!
This reminds me, older generations rarely part with their emotional assets. Next time you visit elderly relatives, you know what you have to do!
Have you ever earned a nice revenue from selling vintage collectibles?
How easy / difficult was it for you to find just the right buyer?
The following two tabs change content below.
I'm Adriana, a passionate personal finance blogger &
web content writer
, helping people improve their website rankings and attract more visitors by creating high-quality, unique content.